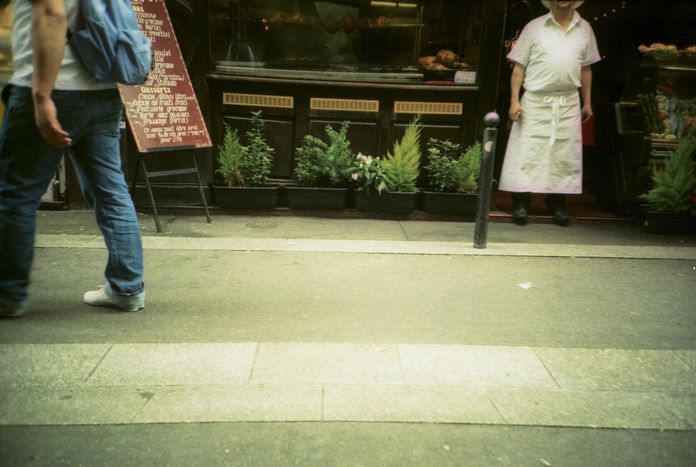 AutoLibs: automatic cars to eat Paris from October 2011
Published on
You can take a double-decker in London, a yellow cab in New York, but taking a blue car in the French capital isn't quite there yet. The City of Lights aims to strengthen its image at being greener than ever before with a few hundred AutoLibs or 'automatic liberties' to be launched in October 2011
Former sales director Erwan Maizy, who runs Ecovisit Paris, changed his life 'to be free'. We're rolling in his hybrid car across the Concorde square up to the great avenue of the Champs-Elysées. We pass Invalides, the Petit and Grand Palaces, the church of Madeleine, the Opéra Garnier, Vendôme sqaure, the Louvre Museum and the Orsay Museum as we go: it is a quiet and smooth ride. 'It is actually dangerous,' Erwan adds. 'Many people cannot hear the car coming. However the air conditioning is low and the vehicle reuses the energy captured from braking. Next year I will have a TESLA-S that goes up to the speed of 100km/h in 3.7 seconds. There are only two Porsches that go faster!' It's the perfect way to look sharp and be environmentally committed at the same time, just as the autolib is a new way of discovering the city as a tourist and being environmentally friendly too. Over an EcoPax water (strictly made of recycled paper) in the car with Erwan we catch some protests in Paris. 'This is France,' he laughs.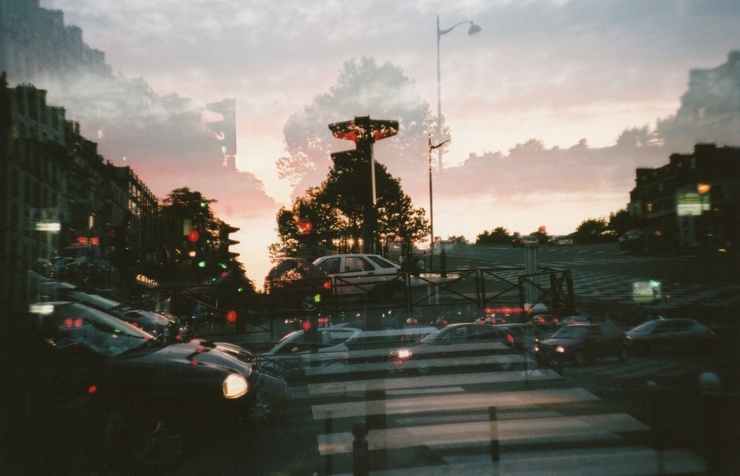 Bee houses
Paris already has the Velib, industrial bicycles that you sign off at one post before dropping off at a different posts across the city for a small charge. The service has been spreading through European cities since 2007, most recently hitting Ljubljana. Every morning, a huge (gasoline-engined) car picks up Velibs to bring them back 'home'. A recent article in The Guardian states that of the 24, 000 bikes in Paris, some 9, 000 have been damaged and a further 9, 000 have been stolen to date. An urban legend cites that one was even found in Africa!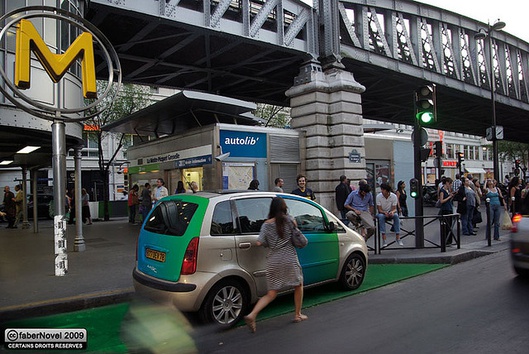 This time, the French company Bolloré Group came up with the idea of launching the AutoLib service. The electronic cars can be used in the same way as the street bicycles but without gasoline as a normal car would have. Erwan, who pays 150 euros for a parking place alone, admits that there are too many cars on the road already. Down in the south of Paris Jacques Boutault, a local green politician who has just left a nuclear energy meeting, is sitting next to his bicycle. He doesn't own a car and travels as the Parisians do, using public transport if not his bike. Boutult says that everyone knows if we put more cars into the city our ecological footprint will be bigger, and would rather spend that money on other transport networks. For example in Madrid, there is a metro line ('6') that circulates around the city. In Paris the current system means you need to go inside the city to transfer to a different line or go to the outskirts. Housing and transportation take the biggest slice of carbon emissions (around two-thirds), as the French capital is the most-visited city with seven million visitors annually. It's thus a good thing that many are pushing forward to change the mode people go from one point to another.
Scootastic
The so-called 'blue cars' are currently under tests, following the system of the velibs where many were stolen or damaged. On the political side there is more optimism. 'If you take a look under the hood there's no end of questions about the environmental advantages of the electric car,' French environment minister Jean-Louis Borloo enthusiastically said in 2010. With his privately-run formula, Erwan manages to mix the sights with a bit of taste. 'Did you know that they have houses for bees on top of the national monuments and they sell that honey?' is one of his pearls of wisdom. It's all new information not just for a first-time Paris visitor as I am, but for the up to five customers a day who take his service, in an audience mostly comprised of tourists and businessmen. 'Coming from abroad as well as other cities of France, actually they are very surprised by the fact there are so many green things in Paris,' adds Erwan.
'Traffic jams in Paris apply for both normal and blue cars!'
Kevin is dropping off his scooter to go to work. Though common in Paris, the use of scooters is not as widespread as it is in Mediterranean cities. The 25-year-old has never heard of the AutoLib and even if he did, says he wouldn't use them. 'Traffic jams in Paris apply for both normal and blue cars! I would prefer my scooter or the Velib,' he laughs. He's got a point: an environmentally-driven car can still contribute to more traffic jams and fellow cars puffing out more carbon emissions. So far, Paris seems to have met her green obligations as we glide by. 'It is already one of the greenest cities in Europe,' repeats Erwan. The most famous sight, the Eiffel Tower, decreased use of its lights during the night by five minutes, whilst the small white buses that sneak around Montmartre have been powered by electricity since 2002. Can the Autolib live up to the same standard? As we finish our customised tour where we started at Concorde, isn't that an extra expense of money and fuel and emissions? To compensate, Erwan explains that he can clean the whole car using only seven litres of water. Or how to improve green thinking in the daily life of a Parisian.
This article is part of cafebabel.com's 2010-2011 feature focus on Green Europe
Many thanks to Andrea Paracchini from cafebabel.com Paris and Nicola Accardo
Images: main (cc) Andrea Pinchi on Flickr/ andreapinchi.it/; Paris by car (cc) victortsu on Flickr/ official tumblr page; autolib (cc) faberNovel2009/ Flickr