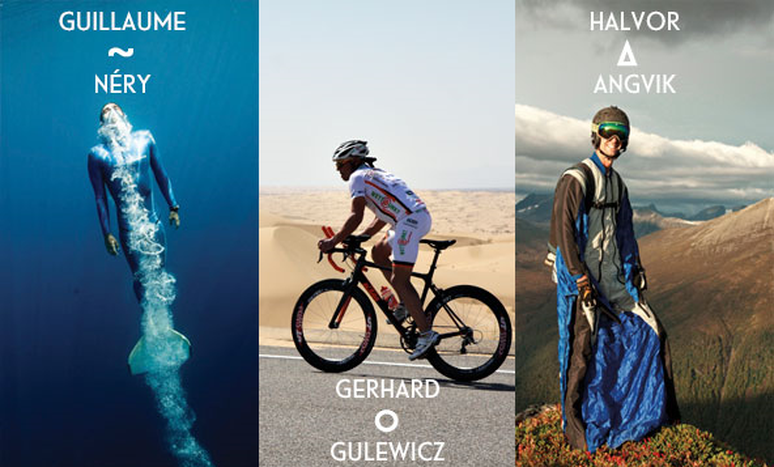 Attention, a life in extremes
Published on
Have you ever wondered why anybody would want to jump off a 2000m hight mountain, race from the US west coast to the east coast on a bike without really sleeping, or dive deeper than 100m without oxygen? 
The Austrian movie Attention, a life in extremes follows the lives of three international extreme sport athletes: Gerhard Gulewicz (AUT), Guillaume Néry (FR) and Halvor Angvik (NOR). Director Sascha Köllnreitner, didn't simply want to show athletes doing awesome stunts, but wanted to find out about their motivations, the effort they have to make and the problems that an extreme sport brings with itself.
Escaping daily routines is definitely one of the reasons why Halvor Angvik does wingsuit flying. He needs it to balance his life, to get away from the city. The camera team from Attention, a life in extremes went to quite some troubles, letting themselves down rock walls for example, to shoot some amazing picutres of Halvor flying his wingsuit in Norway and Switzerland.
The picture fades and suddenly you find yourself underwater with apnoe/free diver Guillaume Néry. Since he was a child it was important to him to be remembered after his death which may be the reason why he has not only won multiple world champion titles but tried a more artistic approach by making the short film Free Fall with his wife Julie Gautier which made him famous throughout the internet.
The picture fades again and you find yourself in a desert - like landscape in the middle of the USA. Appart from all the trucks on the road you see extreme cyclist Gerhard Gulewicz taking part in the Race Across America. Nine times he has participated in this race, cycling almost 5000 km from the west to the east coast, across 12 States, in less than 12 days. His determination, his strength and ambition are incredible, but Gerhard Gulewicz is a human being and therefore he does also have many obstacles to overcome, the biggest one is probably himself.
Attention, a life in extremes doesn't only show impressive pictures, but goes deeper, shows failure, death, the mental and physical strength it takes to overcome obstacles, and lets philosophers attempt to explain the athletes urge to put themselves at risk.
Attention, a life in extremes is in Austrian cinemas now.