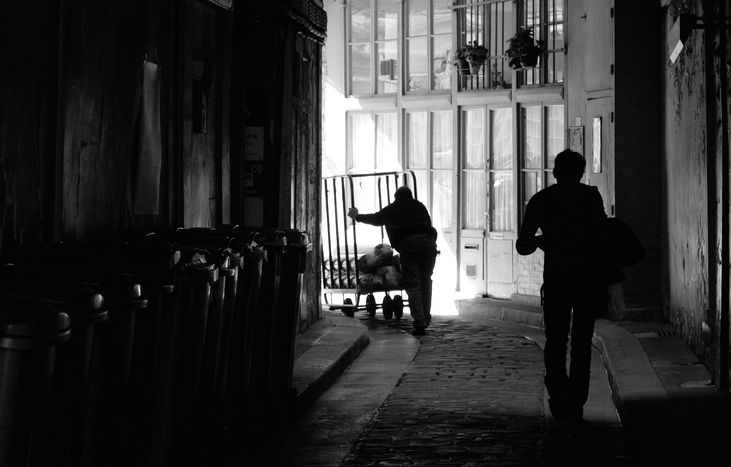 Attacks in Paris : Today, the world mourns
Published on
This morning, the entire world awoke with a sadness in their heads and a sickness in their stomaches. Yesterday, on Friday the 13th of November, almost 130 people were assasinated in Paris and its surrounding banlieue. There is nothing else to say.
10:40pm: the pressroom of the European Council is empty. Journalists are exhausted after a year of intense activity in Brussels and are resting on a Friday evening. I find myself alone in the immense room, which has many functions. In due course, several officials of the European institutions join me, here to agree on a 2016 European budget.
Suddenly, Twitter newsfeeds are filled with panic, and smartphones vibrate with international media alerts. Everyone is in a state of shock, glued to television screens or their computers screens.
Barely moments before, simultaneous attacks took place across Paris: in the Bataclan concert hall, and in several cafés, as well as explosions in the vicinity of the Stade du France during a friendly match between France and Germany.
In the age of the Internet, even the rancid odour of sulphur and gunpowder, and the sight of blood and chaos, have no borders. Though if these madmen have succeeded in plunging us into a state of fear and psychosis, we must resist. We must keep on living and not become goats.
Because Europe is a community with a common destiny. European heads of state and other prominent politicians were quick to light up their phones and computers to express their sadness and sympathy.
Whilst I followed what few words were being uttered, because no one could really speak, Jean Arthius, French MEP, rightly said: "We are all deeply affected, for today it is the whole of Europe that has been targeted."
I do not want to paraphrase any more communications, so here they are in their original state: 
Je suis profondément choqué par les événements à Paris. Nous sommes solidaires aux côtés des français #Paris [ed. I am deeply shocked by the events in Paris. We stand together with the French. #Paris]
— Jean-Claude Juncker (@JunckerEU) November 13, 2015
My letter to President @FHollande. France is not alone. EU will always be there for France https://t.co/2omyMX6MBw
Terribles nouvelles nous arrivent de #Paris. Nos pensées aux familles des victimes, notre soutien aux autorités [ed. Terrible news reaching us from #Paris. Our thoughts are with the families of the victims, our support with the authorities]
Nouvelle tragédie à Paris. Condoléances aux familles et soutien aux victimes. La Belgique est aux côtés de la France. [ed. New tragedy in Paris. Condolences to the families and support to the victims. Belgium stands with France]
I am shocked by events in Paris tonight. Our thoughts and prayers are with the French people. We will do whatever we can to help.
Eis Gedanke an eist Matgefill fir Famill a Frënn vun den Affer vun den Attentater zu Paräis. Nous sommes avec vous! [ed. Our thoughts and sentiments go out to the families and friends of the victims of the Paris attacks. We are with you!]
Conmocionado por las noticias que nos llegan de París. Francia tiene a su lado al pueblo español en estos momentos tan difíciles. MR [ed. Shocked by the news coming in from Paris. France has the support of the Spanish people at this difficult time. MR]
— Mariano Rajoy Brey (@marianorajoy) November 13, 2015
Nos plus profondes condoléances aux familles des victimes. En ce moment difficile toute la Grèce se trouve aux côtés du peuple français. [ed. Our deepest condolences to the families of the victims. In this difficult moment all of Greece stands with the French people.]
---
This article was published by our local team at cafébabel Brussels.
Translated from Attaques à Paris : aujourd'hui, le monde est en deuil