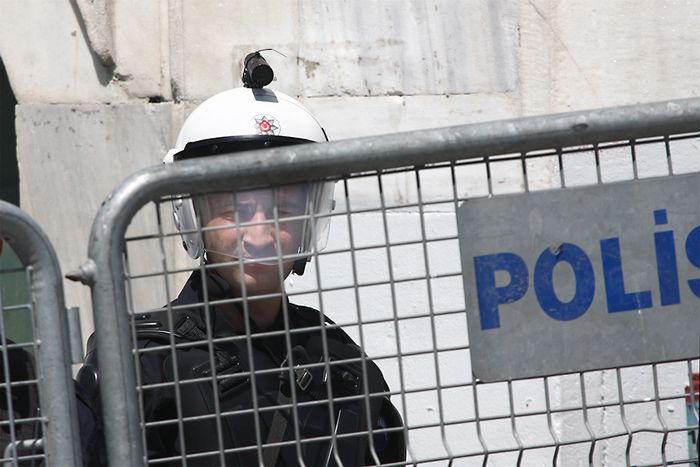 Attack in Istanbul: The banality of evil
Published on
On Tuesday morning, a terror attack in a popular area near the Blue Mosque killed 10 people and injured 15, most of them tourists. People all over the city are talking about it, yet life goes on as though terror has, sadly, become banal.
Tuesday 11:30 am. Breaking news across local TV channels, texts sent by loved ones, a bakkal client whispering into another's ear, posts on social networks – the news is spreading everywhere. There has been an explosion "of unknown origin" in the Sultanahmet district of Istanbul – popular with tourists.
I was warned by my parents; more or less at the same time I'm reading a Facebook post by a friend. It asks: "I'm in Cihangir (Taksim), just heard an explosion, anyone else heard it?"
Another friend replies that she "heard it too. It sounded like a storm, but there are no clouds! Lots of big heavy objects fall when the Lodos blows over Istanbul. Maybe that's what we heard!"
Feeling calm, I too have confidence that it is just the famous wind current – a strong warm wind that, it's true, often causes damage. Gas suppliers even recommend we avoid switching on the heating when it blows in as flues can get blocked.   
It goes in one ear...
Nevertheless, I decide to consult Hurriyet Daily News, the English equivalent of the famous and respected Hurriyet news outlet. Its first page reports an explosion injuring several people in a very busy area surrounding the Blue Mosque.
I immediately share the news with my flatmate – a graphic designer in his thirties. He's more interested in a video game he's playing. His initial reaction is interesting insomuch as it doesn't exist.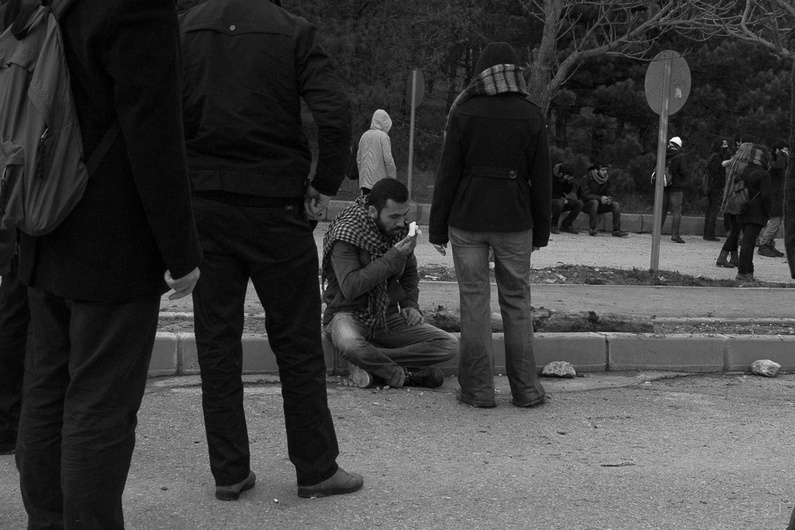 When it is reported that several people have died and that a terrorist source is suspected, we start to pay a bit more attention. "You should at least avoid taking the metro," he argues.
"I have to go to work but there shouldn't be any problems," I reply. 
Quentin, from the cafébabel Istanbul team, brings confirmation: "At uni people are drinking tea and cracking jokes, they really don't look worried at all!" The two of us can't help thinking, if this had happened back home, we would probably stay locked in our flats and avoid any non-essential travel.
...and out the other
In thinking of my own denial and calm, I wonder about the perception of terrorism in this city which for two years has been my own. A bomb, an explosion, a shooting – if I'm honest, such situations cause me about as much anxiety as paying the rent at the end of the month, if not less. I'm not exaggerating.
I was of course extremely affected by the attack perpetrated in Ankara. Then, I was more vigilant. Nevertheless, I cannot really say that I ever feared for my own security – certainly not as much as my friends and family back in Belgium and France seemed to. Did this recklessness – this fatalism – only apply to me? Or was it more general?
I ask this question because the same scenarios keep repeating – scenarios that, like the attack in Istanbul, seem to worry people who are thousands of miles away more than those who live in the city itself.
Loved ones and geography
What is the reason for this? I don't know. Maybe because back in Belgium, the Netherlands or France, it's our families and friends who are following the news and worrying. When a new headline reads "Explosion near Istanbul metro station" barely 20 days after the terrible Ankara attack, it's not hard to understand why my father would write to me saying: "It's time to come home."
For example Puck – also from the Istanbul team – wrote to me today: "I only heard about the attack when my friends and family started sending me messages to ask if I was still alive!"
Another reason may be that, unlike "back home", these types of attacks are more frequent. I first refer to Turkey in general, which has been divided by the Kurdish conflict since 1984. However, I also refer to Istanbul, whose population density is above 5,000 inhabitants per square kilometre.
In my opinion, the risk of an incident taking place in Istanbul is higher than elsewhere. Inevitably, the more we talk about it, the more we get used to it. The layout of the city is also divided into three parts by the Bosphorus (Asia, Europe and the Golden Horn). A suicide attack perpetrated by a woman against the police in Fatih seems, subjectively, quite distant.
One final reason could also be that since Gezi Park, and then the attack in Ankara, events taking place in Istanbul tend to be seen only through sensationalist lenses. Every demonstration is linked to the protests in Gezi Park and every explosion to an organised terror attack.
What's more, the term "Istanbul" can either refer to a 2,600 square kilometre city or a 5,000 square kilometre region. Therefore when news breaks of trouble – or an "explosion in Istanbul" – the potential area is vast.
Take this report of police "opening fire in Istanbul" – a catchy headline. Without wishing to excuse the perpetrators, Okmeydani is a district often confronted with urban violence, and skirmishes between civilians and police. It's similar to reporting on every incident taking place in the suburbs of Paris, or New York.   
Our loved ones worrying too much, a country where we end up used to "the worst", the media releasing sketchy reports... it's possible that the difference in reaction between those thousands of miles away and those here today is explained by one of these reasons. Maybe all of them. Maybe none.
I don't have the answer. But one thing does make a difference this time: for the first time I am worried about the way in which my world keeps turning, the way in which terror has become banal. Including to myself.
---
This article was published by our local team at cafébabel Istanbul! Look out for more of their articles across the site.
Translated from Attentats à Istanbul : la banalité du mal