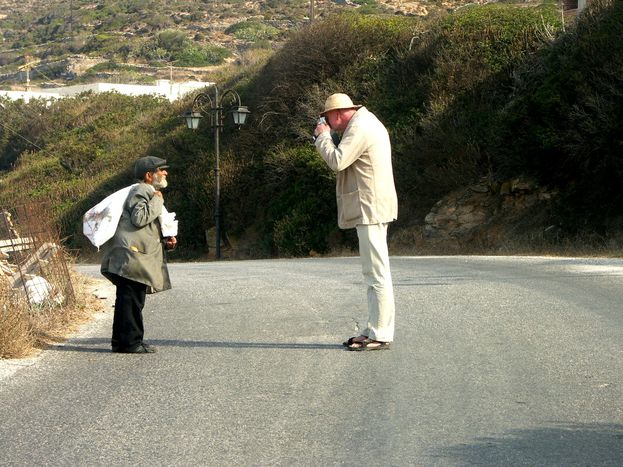 Athens in video: German cliches on the Greeks
Published on
A Berlin-based Italian video journalist heads to the Greek capital to film social reality under the stranglehold of the crisis. A series of opinions range from Germano-Greek tensions to the weakness of the Greek state, as well as ideas for future solutions. Watch the ten-minute video in two parts (in English with French subtitles)
Part I
July 2010. In Berlin, a new Greek embassy has been constructed smack in the middle of the city, in the famous Tiergarten. It's a positive symbol in the world of diplomacy, unlike what's been happening in the media sphere. Since Greece's European loan of 120 million euros was approved after months of the Germans blocking the process, the German press has embarked on a defamotary campaign against the Hellenic people. The German and Greek media both used the crisis to sell papers. The Venus versus swastika debate shows how the press inflated the differences between the two nations rather than delivering a serious analysis on Europe's economic and political fragility.
In Athens, cafebabel.com meets protagonists from both camps. Hans Peter Hoffman, head of the press service at the German embassy in Athens, provides a post-traumatic analysis of the 'true' state of relations between both countries. We chat with Anthony, a former member of the Greek chamber of commerce, at the Hilton hotel, far from the troubles which fog his country.
Part II
The nightlife in the Greek capital is always animated, the streets full of night owls. The crisis doesn't hold them back. Gregoris, a theatre director, has his bit to say about the turbulence that Greece has gone through, whilst engineer-cum-barman Ioannis, who work in the chic neighbourhood of Pyschico, shares what he thinks about German chancellor Angela Merkel. It'd be insouciant to consider the tensions of Greece, and thus Europe, as being part of a simple bubble. One thing is certain – together, the Greeks and Europeans have to look closer at the origin of the word krisis. Krisis actually means 'choice', and thus implies making a decision.
Many thanks to the cafebabel.com team in Athens
Image: ©karstalipp/ Flickr
Translated from A Athènes, sur les traces des clichés allemands sur les Grecs (vidéo)