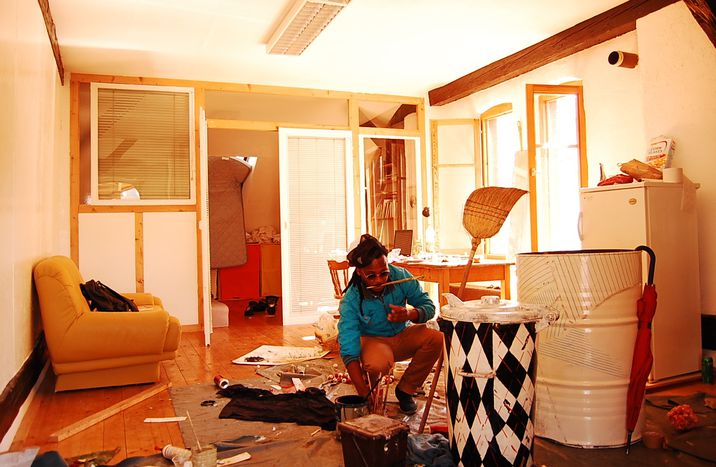 Asylum meets art in Slovenia
Published on
Slovenia, a transit country for migrants and immigrants from its EU and Balkan borders and beyond, boasts its own asylum culture. In the self-declared autonomous culture zone of Metelkova mesto in the capital, Studio Asylum plays with the concept of asylum by encouraging multicultural diversity via the arts. The local authorities, however, are still hesitant to collaborate
Tshepo Maponyane, a South African artist resident at Studio Asylum, paints garbage bins in Metelkova mesto. His rebellion against pollution is well aligned with the centre's revolutionary spirit. Tshepo's exhibition is attended by members of the Slovenian black community, locals, artists and backpackers from the nearby hostel Celica amongst others. 'They think I'm the cousin of Barack Obama,' he jokes.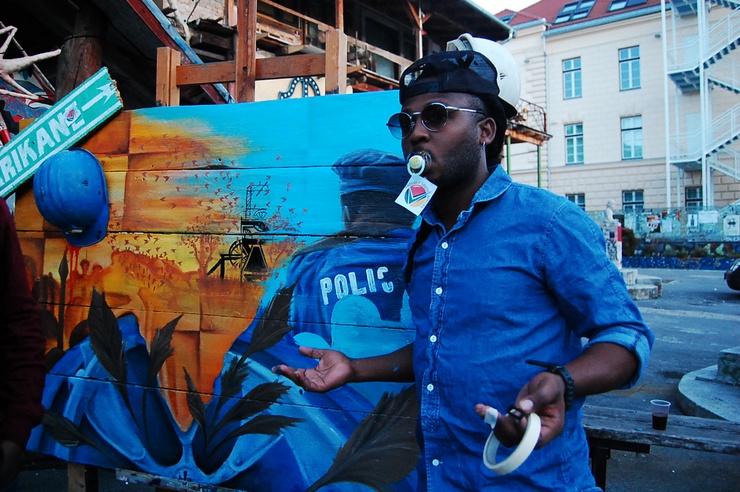 Located in the heart of Ljubljana, the independent culture zone occupies former military barracks abandoned by the Yugoslav national army after the declaration of Slovene independence in 1991. Metelkova has never had any legal status, for which its relationship with the government remains complicated. It feels like an isolated miniature city showing off its collection of galleries, nightclubs, NGOs and workshops; a patchwork of different visual styles bringing an immediate sense of recent past and social transformation. 'At first sight, Metelkova wasn't one of these formal places,' says Tshepo, who was recommended to the two-month studio residency after meeting a Slovenian colleague on a scholarship at the Indonesian institute of the arts in Denpasar. 'I was inspired by the chaos around here. I thought I could do something to beautify this place.'
Studio Asylum, or multicultural diversity at work
It is difficult to make a living in Ljubljana for immigrants at Metelkova. The majority of asylum seekers in Slovenia in 2011 came from Balkans, Turkey, Afganistan and Nigeria. The public authorities perceive them as 'trouble makers unwilling to work', according to Urška Šlibar, coordinator of the community initiative programme Equal. Nataša Serec, president of the cultural association KUD Mreža, will soon be launching the first and only social company in Slovenia to help immigrants overcome the bureaucratic barriers in obtaining citizenship. With residencies at Studio Asylum she wants to give emerging artists who don't have access to the 'big fancy art scene' a chance. 'We need people who bring in new ideas, new lifestyles and engage passionately with their work,' she explains. 'It's about the story they want to tell.'
'Metelkova can't be put in a box like any other institution'
Nataša proudly turns over a recently-designed children's instrument in her hands. 'It's made from the marmor leftovers we got for free after the renovation of the Chechen parliament,' she explains. Beside her Jernej Brzin, a PhD student, mixes Spanish, English and Slovene as he explains how he transported one of the two olive trees in Slovenia from Croatia to Metelkova, thus making the latter seem to be more connected with the world than with the local authorities. 'We are still having problems with them because they simply don't get us,' admits Nataša. 'Metelkova can't be put in a box like any other institution.'
The chatty atmosphere at Metelkova makes socialising easy. Anna Ehrlemark is joined at the bar by Leigh from Ireland and Kingsley from Nigeria, all chatting in fluent Slovenian. 'One quote in an internet forum said that Metelkova was full of ugly women and men without money,' laughs the Swedish artist and former resident of Studio Asylum, who is working on a graphic novel called Desperate Rich Old Bitch, Zombie Girl. Anna came to Ljubljana in 2003 as a volunteer, later becoming a workshop leader, fundraiser and graphic designer at KUD Mreža. She says the people and spaces here help her appreciate the concept of community-building. 'Stockholm is terribly segregated, whilst different people intermix in Metelkova. I feel horribly bored when I'm in Stockholm far away from this place. Metelkova is still very welcoming for the so-called 'normal citizens', although it radically opposes any kind of normalisation.'
Art center
Tshepo's green revolution is resonating in the middle of the forest in north-east Slovenia. Goričko natural park lies in the bilingual area of Prekmurje, 150m away from the Hungarian border. Activists enthusiastically help build the 16-person artist residence of the Art Center (Art središče) with materials such as clay and straw. In fact, Studio Asylum was born when these very folks were thrown out from their premises in 2006. Seeking asylum in Metelkova, they renovated and transformed an old storage room into a space for foreign artists, before returning to Goričko in 2008.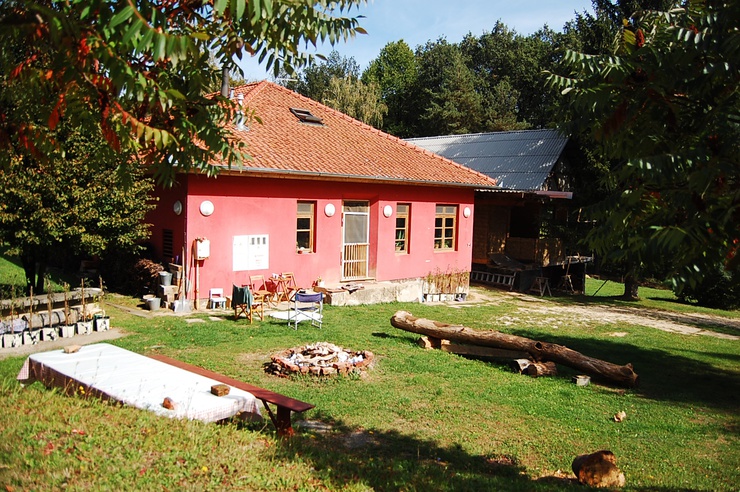 Art Center is the first and only residential art centre in Slovenia, a stimulative space for the production of multicultural art. It has been an encounter for artists from all over Europe, whose attempts in finding connections between 'here' and 'there' have resulted in the creation of kinetic sculptures, animation workshops, videos, schnapps bottles, clothing design, and so on. Vita, a sculptor and manager, and Zdravko Pravdič aka Pec, the founder of the centre, live in the renovated ex-Yugoslav border house; there are also two other sites and a huge vegetable garden. Six years of ups and downs lie behind their happy eco image; they still do not have a legal explanation about their 2006 eviction by 'local authority mafia'. Because they couldn't finish many projects funded by local and international contributors, they lost the trust of supporters. They are still involved in government trials, and so can't apply for most EU funding programmes.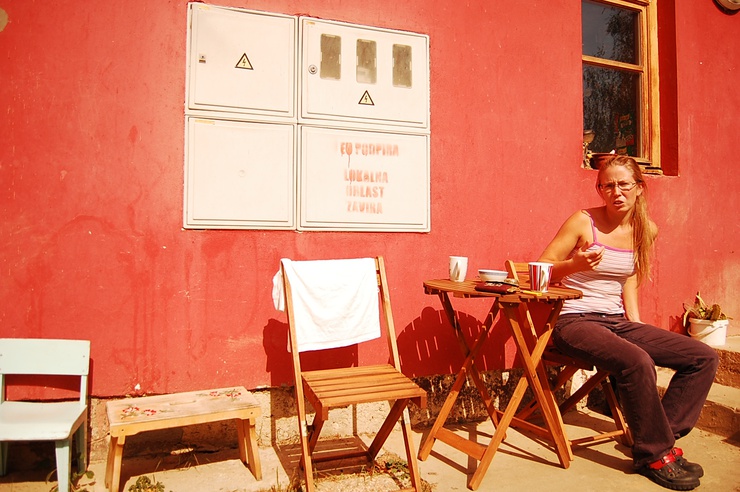 Art Centre members Maja and Simon are taking the car to the Croatian border, swamped under a pile of papers. For European cooperation day and their 'SI-CRO project new media cross-border', they have printed a story about 'the wedding of E and U' in both Croatian and Slovene. 'When you tear the paper down the middle, each half of it has the story in both languages so that you can keep one for you and pass the other one on,' they explain. Delivering a message by using art and activism as a multicultural language is not the greatest challenge of Art Centre. Vita and Pec are struggling to reach an agreement with the government and the culture ministry to ensure the institution's independent functioning and freedom of expression. A large international community of people from diverse backgrounds, professions and interests stands behind them.
This article is part of the tenth and final edition in cafebabel.com's 2012 feature focus series on 'MultiKulti' aka multiculturalism in Europe. Many thanks to the team at cafebabel.com Ljubljana
All images © Plamena Slavcheva for 'MultiKulti' aka 'multiculturalism on the ground by cafebabel.com', Ljubljana, September 2012