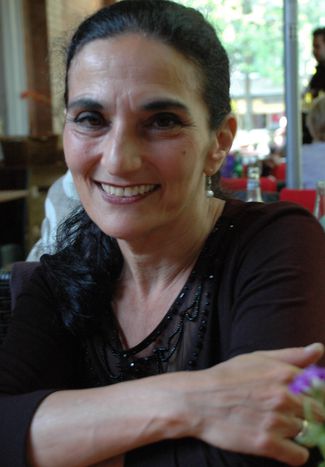 Ariana Burstein: mixing cello with guitar
Published on
Translation by:
Sarah Pybus
Born in Buenos Aires and a German resident for three decades, the cellist adds a 'Spanish influence' to an 'unusual' ensemble, revolutionising European chamber music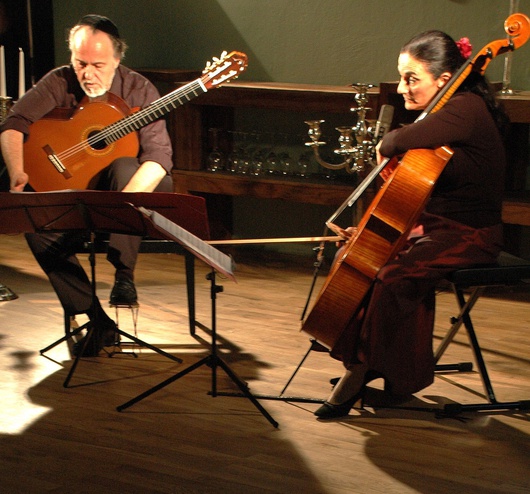 Berlin, Kreuzberg, Bergmannstraße: two hundred metres of trendy bars, shops and tourists. Just around the corner, Viktoria Park offers a sanctuary of relaxation. At the edge of the park there is an old mansion, the cellar of which hosts a large man-made waterfall that flows through the park. 'The waterfall is noisy. Hopefully you won't be able to hear it on the recording,' Ariana Burstein says cautiously. The petite cellist sits in the spotlight in the ballroom of the villa, now converted into a restaurant and concert venue. Outside it is twenty-eight degrees. Here, in the glare of the light and shielded from the hustle and bustle of Kreuzberg, it is at least forty. Ariana Burstein and guitarist Roberto Legnani, the other half of the duo formed in 1996, are being filmed by four cameramen. Microphones are discreetly hidden – more or less – in enormous silver candleholders.
Cello, meet guitar
Ariana Burstein lights a cigarette, enjoys a long drag and lets it go out: 'I used to smoke a pack a day, but in the last six weeks two drags have been enough. So now I only smoke two cigarettes a day! Roberto, on the other hand, has given up completely. He always has to be radical: either - or!' she laughs deeply and heartily, her black stage eyeliner blurring with her pronounced laughter lines to form wings at the edges of her eyelids. We talk mostly in Spanish, but words such as Kulturbetrieb ('cultural scene'), zupfen ('to pluck') and Heimat ('home') slip out in German.
Both musicians have studied classical music. Ariana Burstein, who grew up in Argentina and moved to Israel in 1971, performed, amongst other things, as a solo cellist in the Bremerhaven orchestra before forming this unusual and unique duo hidden with Legnani in 1996. 'You know, I have experienced both sides – performing with an orchestra and as a solo artist,' Ariana Burstein says carefully when asked about the cultural scene. 'Orchestra musicians always complain – not enough money, only fixed-term contracts. But really there's no comparison: However little, your income is assured. But as a solo artist there are no limits.'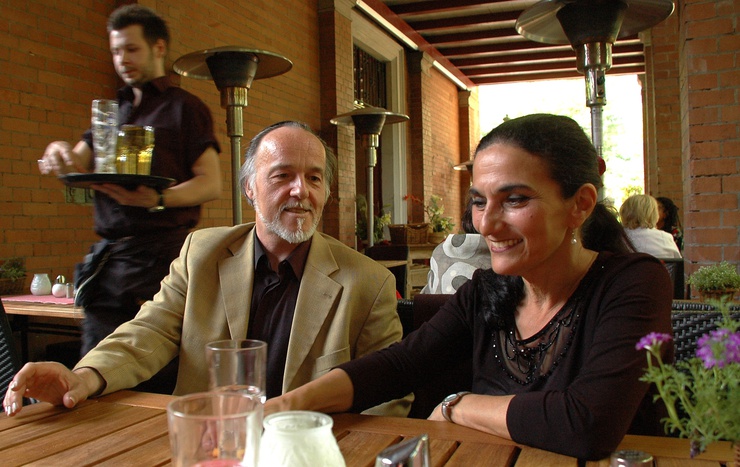 It is precisely this freedom that excites the duo. Never before have a cello and guitar been combined to perform chamber music. For this reason no sheet music was available, meaning that until now Legnani and Burstein have had to write all arrangements themselves. Since the success of their concerts, sheet music is available to buy.
Europe's outdated classical festivals
'When we started, many of our colleagues said we were crazy. Our original idea was to run courses for instrumentation not usually associated with chamber music. We wanted to show young European musicians how to transcribe and rearrange works, but it fell through due to lack of interest. The classical festivals in Europe are just as sceptical and out of touch. They prefer to persist with traditional chamber music instrumentation – string quartets or a cello with piano accompaniment.'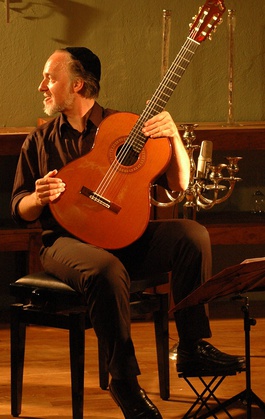 Burstein believes that her love of travel has given her music a Spanish influence. The first concert the duo performed was made up of folk tunes and classical music from all over the world: 'Roberto, for example, arranged music for us to perform that he had discovered in South Korea. But we soon found that our audiences most enjoyed Spanish music from the Renaissance, the Baroque era, and right up to the start of the twentieth century.' Since then, their concerts have been so popular that they 2000 and 2007 Sponsorship Award for Special Cultural Attainment from the German president.
'In my opinion, the guitar and cello complement each other perfectly. They are both string instruments and have been around for a long time. The guitar developed from the lira, an ancient instrument, and the Torah mentions a 'kinor', a type of violin. Some believe that it was played with a bow that was more like the sort of bow used to fire arrows. Others believe that it was plucked. In any case, in Hebrew the word 'kinor' is used to refer to a violin to this day.' Both Roberto Legnani, whose father came from Italy, and Ariana Burstein are practising Jews. Legnani used to remove his kippah before concerts. 'But then one time I asked him: Roberto, why? You wear it the rest of the time!'
Israel: small, but plenty of musicians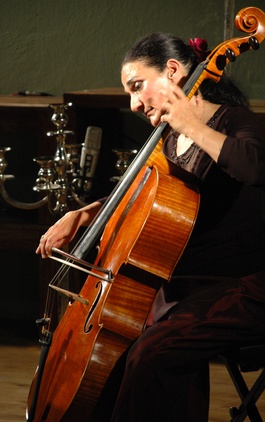 There it is again – her laugh, as deep and hearty as the bass strings of a cello. When asked what home means to her, she closes her eyes for a second. 'It's difficult to say. Religion is perhaps a sort of home to me. I left Argentina when I was fourteen, so it no longer feels like home. After spending some time in Uruguay, we went to Israel. I identify very strongly with this country, but to be honest, I didn't want to live there. For one thing, I wouldn't have had as many professional opportunities: for a country so small, there is an unbelievable amount of musicians. The pace of life would also have been too hectic. I need quiet – like that provided by the small town near Strasbourg in which we live now.'
Burstein could get used to being described as cosmopolitan. 'I speak Spanish with my mother and Hebrew with my sisters. I lived in Strasbourg itself for some years and enjoy speaking French. I've been in Germany for nearly thirty years and I can also communicate well in English and Italian.' And she has music, and her cello.
A few hours later the hall is full. A few students have also come. Roberto Legnani gives them a friendly wink in the first row. During the course of the concert the duo celebrate their 'music of undertones', as Ariana Burstein calls it. However, they also show that cellos and guitars can be turned into miniature drums, and that a cello can growl and laugh. During the famous Concierto de Aranjuez' Ariana Burstein peeks mischievously from behind the bridge of the cello. She strokes the strings lightly and all of a sudden the cello sounds like an electric guitar – in the middle of Berlin's Kreuzberg district.
Translated from Ariana Burstein: "Europas Klassikfestivals sind verkrustet"