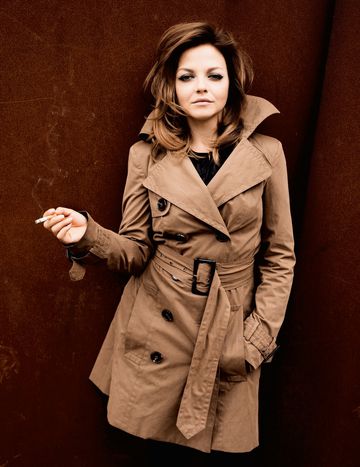 Annett Louisan: 'I don't need to go the fake platinum blonde bombshell route anymore'
Published on
The breathy German chanson singer hasn't only changed hair colour over the years - she seems to have done a bit of growing up as well. We catch the 31-year-old entertaining the Franco-German relations ambassador and performing live in Paris for the first time
'It'll be sold out.' A promoter is running around the New Morning venue like a headless chicken. It's at this jazz club, which opened in Paris in 1981, that the chanson singer Annett Louisan makes her Paris debut in mid January. An unexpected over 400 people will be queuing for a ticket to the free concert, according to Harald Schmidt from German-French youth organisation OFAJ, the moustachioed co-organiser of the event. With a mixture of nervousness and pride, he disappears in the direction of the dressing room at the entrance. A double bass lies on the stage in anticipation.
It's the first time that Louisan has come to Paris especially to perform, but she's also dutifully attending the official press conference for the Franco-German alliance week and the dreary meet-and-greet between education minister Luc Chatel ('If our two countries pull together as one, we can move mountains'), the German ambassador in Paris and other esteemed guests. Louisan is the most French of German singers, who practically operates as a representative for smooth neighbourly relations in the European machine, which, in this week of the 47th anniversary of the Elysée treaty, is getting an extra thick oiling.
Paris: the flirtiest city in all of Europe
Louisan is suitably late and has the voice of some kind of child queen. She begins by saying how honoured she feels to be singing in Paris for the first time. Genuine or not, it's difficult to resist those wide eyes. 'It's almost a little surreal. I was born in east Germany, in Havelberg. As a child I dreamed of Paris – there's such a sense of romance about it, which you get especially from watching the old films. I came over for the first time when I was sixteen, with my grandmother [Louisan, who gave her granddaughter Annett Päge her stage name - ed]. It changed me. I don't know any other city in Europe where there is more flirting!'
No sooner said than done. Annett Louisan really throws herself into things at her concert evening, not least flirting like a champion. She really knows how to milk the cheeky voice, the odd flutter of the eyelashes and her coquettish banter with her three musicians Friedrich Paravicini, Olaf Casimir and Martin Gallop – or the Sexy Loverboys, after a track that the audience were clamouring for. It's no mean feat when she's performing to such a mixed crowd, with teenagers lounging on the floor next to suits at the tables.
Sassy lass
Annett, who doesn't like to reveal her real age, is a bit of an old pro after having released four albums and notched hundreds of live performances under her belt. She can pull off anything – even some funny bobbing-up-and-down dancing to the waltz and bossa nova rhythms of tonight's show. She self-confidently struts before her audience. When she first began in the business, as she tells us before the concert, she would be sick with nerves. 'But it gets better. I still get tense and I still have a healthy level of stage fright. I don't want to lose that completely. I'm not exactly an old hand, but I'm not wet behind the ears, either.'
The girl is now a woman! Today, Louisan has a feminine savvy about her. 'You don't have to stick with the beret and the blonde hair just because people are used to that image. When I look back at myself, I think I went into a lot of things very naively. Between the ages of 25 and 30, you're still trying things out. But I don't need to go the fake platinum blonde bombshell route anymore.' As a brunette femme fatale in 4-inch heeled kinky boots, she knows how to please her audience, be it with melancholy lyrics exploring the loss of her father (Kleine Zwischenfälle, 'Small Incidents') or seductive songs on that eternal theme: finding and losing love. Irony is included.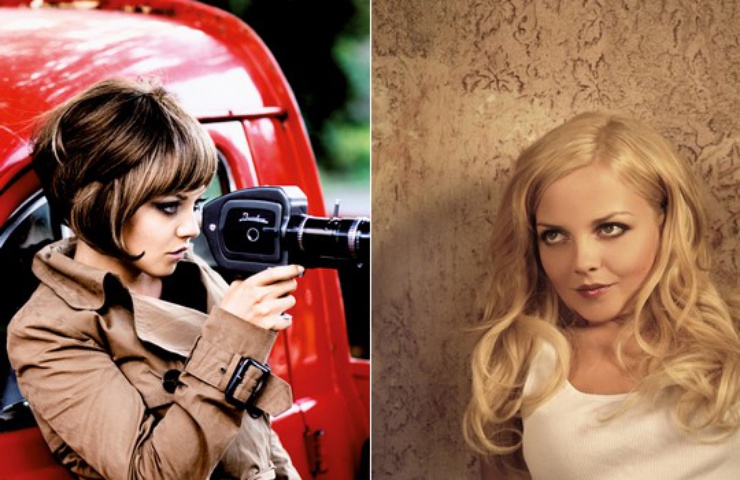 She reprises her breakthrough hit from 2003, Das Spiel ('The Game'), masterfully. But the more uptempo pieces come over better, such as her song Eve - which happens to have one or two similarities with If, recorded by Etienne Daho and Charlotte Gainsbourg in 2003. It's no surprise, really, since her writer and producer Frank Ramond is half-French. Louisan makes no secret of the fact that her work is heavily influenced by the French chanson tradition, from Charles Aznavour to Edith Piaf. 'Even Carla Bruni's first album [Quelqu'un m'a dit, 'Someone Told Me' 2002] was a big inspiration for me – it's very smart, intimate and different.' And, of course, there's the obligatory nod to Gainsbourg, the master: Annett is known to puff away on cigarettes in her press photos and ask for something to drink – 'Not water, something stronger' – in the middle of a performance.
Speak to me auf Deutsch
Although her own role models are French singer-songwriters, Annett thinks the German language music scene has changed a bit in recent years. 'Germany still has a way to go. We Germans have had a hang-up about our own language for a long time,' she says. However, the language of Goethe has begun to gain a foothold in the European pop market. German is becoming more and more popular, especially in France – and it's not just thanks to groups like Tokio Hotel.
While it's almost exclusively German expats packing out the New Morning this evening, Annett has nailed her colours to the mast in terms of her obvious intention to 'break' France. The following day she's off to Auneuil, 60 kilometres away, to sing with some French schoolkids and discuss her lyrics. If – apart from a couple of jokey 'Voulez-vous…' expressions – she sticks to her mother tongue, that's not to say she wouldn't like to learn French. But as for the music, she's quite secure about staying German in the original: 'My songs are, and will always be, thought up and written in German. I sound exactly how I speak.' That should please the nice gentlemen in the audience.
Annett Louisan's three tips for eating in Berlin, where she has lived since 2008
'Grab a great steak in Kirk Royal, on Paul-Lincke-Ufer in Kreuzberg''The Luzia on Oranienstraße, Kreuzberg is a nice bar where you can drink coffee by day and cocktails by night''Kuchenkaiser at Oranienplatz - my favourite place for breakfast'
Images: ©Jim Rakete; annett-louisan.de
Translated from Annett Louisan: Voulez-vous Deutsch lernen avec moi?