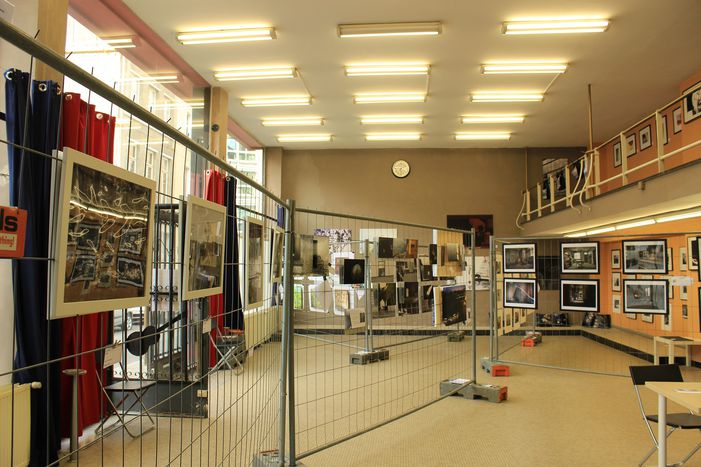 An initiative for Brussels and photography
Published on
Brussels is a city full of activities and ideas. It is where cultures and people meet to create something new. Until the 25th of October you have the opportunity to visit an unique photo-exhibition  of six independent photographers, all having close ties to Brussels. The pictures are their visions.
One of the organisers is Claus Siebeneicher, who has been passionate about photography for years. He is also the founder of an international community of photo enthusiasts called Photoresk. This is the community out of which the idea for the exhibition emerged. On a warm and sunny afternoon we sat down at the venue of Dis/Closure with Claus to talk about the exhibition.
Could you tell us what can people experience at the exhibition?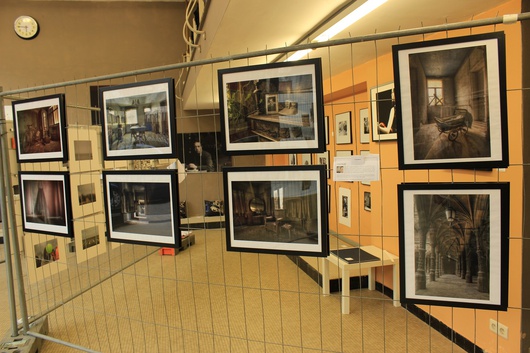 The key word I would use is diversity. You see street photographies with a social aspect, experimental transformation pictures, black/white photos and wonderful close-ups. There are also pictures of abandoned buildings taken mostly in Belgium. Some photographers have entered these buildings and taken most interesting images. There is a photo of an abandoned living room that looks like as the people have just left. I would encourage everyone who comes here to talk to the artists as one of us is always here and would gladly reveal the stories behind the pictures.
This is quite an unusual venue. What is this place normally used for?
It used to be a music store. After it was closed it was used as a loft. We are actually sitting in the middle of a 50m2 living room. The eventual idea of the owner is to transform this into a place where artists can work, maybe an asbl (non profit organization). As you can see, we are already doing something, so it is a start!
Could you tell us more about Photoresk?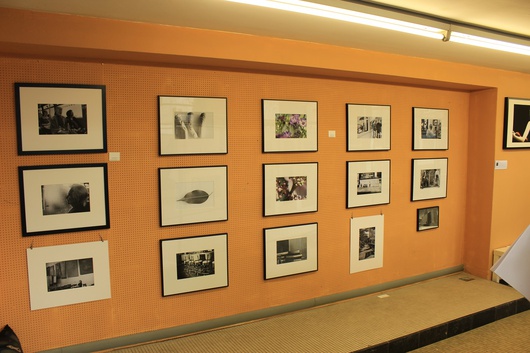 The name sometimes puzzles people. About two years ago I started a photo club. In comparison to other such clubs, ours focuses on learning and sharing rather than on competition. Everywhere you go in life you are surrounded by competition between people. This starts at home, follows you at work… We are focused on mutual learning rather than competition. Anyone can join and participate. The name itself has a distant connection to the word picturesque.
Is Photoresk only Brussels-based?                                                                                                  
This is actually an interesting question. As you know in Brussels we are a mélange of people from many countries, various walks of life and nationalities. In Photoresk Brussels we have people from Argentina to Cyprus to China and South Africa. The interesting thing is that some people inhabit this city for a limited period of time. People tell me they miss the international community when they leave. After going back home, they sometimes start in the same spirit. There is now a Photoresk in Berlin, Germany and in Cannes, France. The idea is spreading and I am delighted to see this.
I notice there is a special device here. What is the ShoeFie?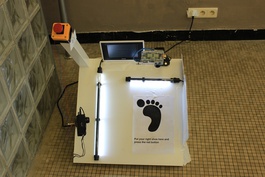 It is a little machine that was built for this exhibition. We thought that when people come and show their interest it would be nice to offer them a small gift. One of the ideas was to offer portraits, but there are a lot of legal restrictions to taking recognizable photos of people. Then we thought it would be interesting to take a photo of people's shoes. It is a machine where you place your feet into an illuminated area and two cameras take a picture simultaneously and upload it onto our website. The picture is printed out at the same time. You receive the printout directly with a QR code on it. You can scan the code with your mobile phone to enter the webpage and share the photo with your friends by email or social media.
This is the first exhibition for Photoresk? What does the future hold?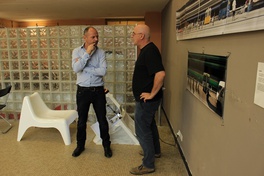 I hope it is the first exhibitions of a long series . We have funded everything ourselves and are not seeking any support. The goal is really not to make money. It is a lot of fun for us! There is a lot of interesting people coming to see us and I believe the idea of Photoresk will grow.      
Dis/Closure Expo, 25 Sept–25 Oct 2014
Rue des Vierges 14-20, 1000 Brussels, Free Entrance
For more information visit: http://disclosure.photoresk.com/
Proofreaded by Sarah Cohen