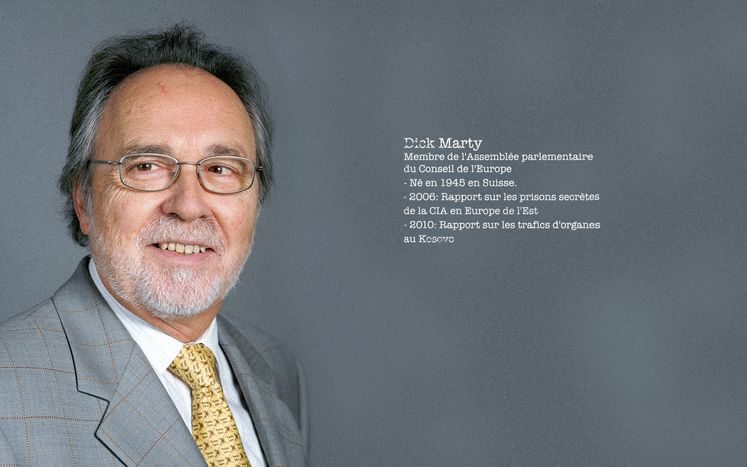 An Exquisite Corpse in the Land of Blackbirds: Chapter Seven
Published on
In the early 2000s, was Kosovo the site of organ trafficking, carried out by guerillas on Serbian prisoners? A man working for a European institution tries to uncover more answers. His name is Dick Marty. In Lausanne, an interview uncovers the truth.
VII - A Cold Buffet in Lugano 
Dick Marty, who carries a name too reminiscent of an American cop to fit this Swiss prosecutor, is a member of the Parliamentary Assembly of the Council of Europe. In June 2008, the human rights association, based in Strasbourg, was intrigued by revelations found in Del Ponte's book. The Council asks Marty to investigate.
"The Council of Europe gave me permission to work with my sources confidentially and to guarantee them total anonymity. My assistant and I directly met the witnesses: they are absolutely terrorized today. Certain ones were killed, whole families were submitted to pressure and intimidation. I worked in an absolutely confidential manner, I didn't save anything on a computer, no names, no writings," explained Marty, vigorously attacking his tomatoes and mozzarella at the Swiss station buffet where he agreed to meet me.
In his report on inhumane treatment and illicit human organ trafficking in Kosovo, Marty evokes the tragic fate that met "300 to 400 Serbian and Albanian prisoners," victims of clandestine international organ trafficking. In addition to the "yellow house" of Bürrel, Marty identifies "three sites in Albania that had served as way stations." He describes a "farm situated in Fushë-Krujë, not far from the Tirana airport, transformed into an improvised clinic where prisoners were slaughtered, usually through a bullet to the head, before their kidneys were taken and sent abroad." The price of a kidney on the black market? Around 50,000 euros. This is how the UÇK (KLA) financed its resistance activities.
Read the report in PDF form.
According to Marty, "thousands went missing during the Kosovo conflict. Whether the prisoners were killed as part of organ trafficking or not doesn't change anything: they are probably dead," he reveals. "Trafficking almost certainly concerned only a handful of individuals. More important, I think, is the connection between politics and power and the impunity given to the leaders of Kosovo." In his investigation, Marty describes actions, places and, most importantly, gives names: those of former UÇK combatants who had been masters of organised crime in the region and later risen to the highest echelons of power in Kosovo. "The whole world recognises itself in Pristina, a tiny village. Locals give favours to internationals and vice-versa. Many people who work for UNMIK are currently top political counselors for the government."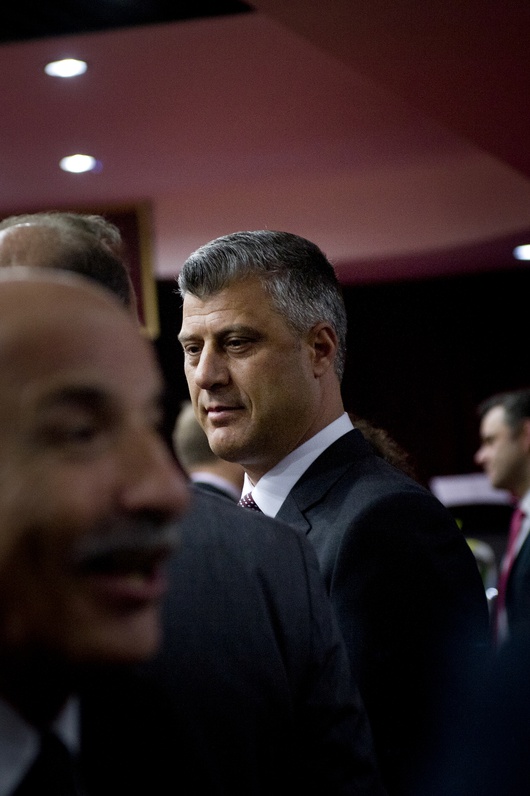 Marty also denounces the role played by Hashim Thaçi, who has meanwhile become prime minister of Kosovo. "Thaçi, during and after the war, was the patron of an incalculable number of illegal activities, including heroin trafficking and a constellation of secret detention centers in Albania, where prisoners were subjects to acts of torture, murder and organ trafficking," writes Marty. "Since 1999, the FBI has accused American leaders with whom Thaçi had a criminal past." "The past is done. We need someone for the future," American Secretary of State Madeleine Albright, who needed ground relay for an aerial military intervention, pragmatically responded. In February 2008, the same Hashim Thaçi unilaterally proclaimed the independence of the former Serbian province, to Belgrade's chagrin. The enthusiasm in Pristina's streets is at its height for the birth of this "proud, independent and free Kosovo." A giant sculpture is erected in front of the former sports hall, inscribed with the word Newborn. "Maybe…maybe, Kosovo's independence happened too quickly, or maybe it was an error," wonders Marty. "Today, I only know one thing for certain: there is collusion between officials and all the current trafficking in Kosovo, whether it be drugs, arms, prostitution, human beings."
Whether by chance or coincidence, while Marty presents his findings to the Council of Europe, another scandal splatters out of the Kosovar government: the Medicus clinic affair. According to Dick Marty, there's no doubt that the Medicus affair and that of the immediate post-war environment are "connected," as are the activities and the nebula of highly placed people they implicate.
Marty thinks that in the early 2000s, the Medicus clinic "took over" clandestine trafficking conducted on Serbian prisoners of war, thereby somewhat institutionalising the war crime. "The same names are cited in both affairs. And the Medicus clinic has been running for a dozen years, the same amount of time that the international community has been present in Kosovo." Dick Marty, summoned in 2012 to appear at the Medicus penal investigation, refused to travel to Pristina, arguing his diplomatic immunity. "My conclusions on the C.I.A.'s secret prisons in Eastern Europe were received in the same manner. They accused me of libel and brought accusations against me," the former prosecutor confided serenely. "And the Wikileaks cables arrived and confirmed everything I revealed. The same thing is happening with organ trafficking in Kosovo."
YOU JUST READ THE SEVENTH CHAPTER OF OUR INVESTIGATION INTO ORGAN TRAFFICKING IN KOSOVO. DISCOVER THE NEXT CHAPTER OF THIS GREAT THRILLER EVERY TUESDAY THROUGHOUT THE AUTUMN HERE AT YOUR ONLY EUROPEAN MAGAZINE.

Translated from Cadavre exquis au pays des merles noirs : chapitre 7