Amir: "I think Europe is extremely sexy"
Published on
After winning hearts by taking part in the French edition of TV talent show The Voice, he now looks set to take Eurovision by storm. Born in Paris, the Israeli-French performer Amir Haddad is among the bookies favourites to rack up some serious points this Saturday. But who is the man behind France's song for Europe? J'ai cherché for some answers.
cafébabel: The modern world can be complex for some people. How would you explain to a child what you do?
I'd tell them that I try to take a microphone, and deliver people happiness, good vibes and strong messages. I hope that a child could understand that at least! I'd tell them that I was using a stage and a microphone to make them smile.
cafébabel: We can all be heroes, just for one day. What's one other thing you've always dreamed of doing?
I guess I would be happy being a plastic surgeon. I chose the music industry because it was a bit of a shorter path to reach my goal, because I like to make people prettier. I'm not talking about styling them, cutting their hair or doing their makeup. I'm talking about really making someone prettier. If someone is happy with how they are naturally, that's probably the best way to live. But if someone can be helpful, and use their knowledge to make people feel better about themselves... I'd like that job.
cafébabel: For most people, Europe can be a bit of a drag. How do you think we could make it sexier?
I think Europe is extremely sexy by itself! Even if it is the Old Continent. For me, people in Europe are the centre of fashion in the world, the base of good taste. The best culinary capitals are in Europe. I think in many ways Europe is extremely sexy. I wouldn't see Europe as a place that is behind.
cafébabel: What's the thing that outrages you most about today's world?
The rise of Islamist terrorism, and the people who strongly believe this is the right way to make the world a better place. I just can't bear it.
cafébabel: Our world demands perfection, but what's the one fault you're most tolerant of?
Your questions are original! They really force me to think... I'd say that I could forgive impatience. This is how I am myself. I can understand someone who doesn't like to wait, and who wants to make everything happen faster.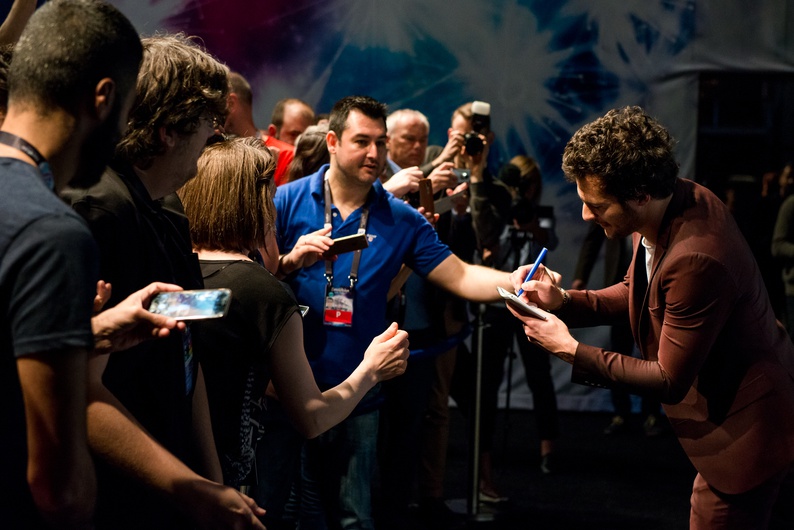 cafébabel: Nowadays it seems the Internet knows everything, but what's one thing Google doesn't know about you?
Aha! It's weird because I'd actually say that I'm extremely open on social networks. I'm trying to think of the one detail I haven't spoken about! Maybe… the order in which I soap my body in the shower! I have a soaping ritual; I always do it in the same order. Did you know that?
cafébabel: Congratulations! You have been chosen as the major representative for the youth of the world. What was your campaign slogan?
Wow! I'd say: "Don't try to miss out on your youth or get old before your time." I think there's a tendency for kids today to try and make themselves look older, do things that older people like to do, or try to get into places that aren't for their age group. Maybe it's always been this way. I can understand curiosity. I can understand if you want to be different from your friends or if you feel like they've advanced further in life. But for me, especially after having finished that part of my life, I'd say that I probably would have enjoyed it more if I'd just tried to be a youngster, instead of always trying to take the next step forward. Let life just take you to the next thing; don't try to fast-forward it.
cafébabel: What's the first thing you do in the morning, no matter what?
I drink a cup of coffee!
cafébabel: If you could invent one thing that hasn't yet been created, what would it be? 
Wow! Probably a personal flying machine, so you don't have to book a flight and you can just move around from one country to another. I know it's not that original, but I would love to go anywhere I want in the world by my own means – without going to an airport and having to pass security checks and everything. Just to be able to use a plane like I use my car – or anything that could be flown easily, fast... and ecologically too!
cafébabel: If you had to write a song to convince the United Kingdom to stay in the European Union, what would be the chorus's main refrain?
[Sings the Beatles] Let it be! Let it beeeee!
---
There are plenty of Big Fish in Europe's not-so-small pond. Introducing our new series of interviews delving deeper into the lives of some of the continent's biggest names.