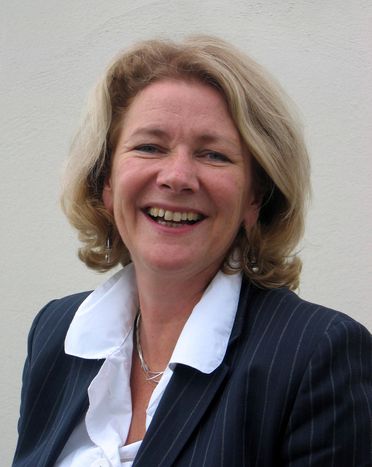 Alison Smale: 'by learning languages I could escape the boring life I had been living as a child in England'
Published on
Translation by:
mary maistrello
The former German and Politics student at Bristol university is the first woman to lead the Paris-based International Herald Tribune. The multilingual managing editor talks European elections, languages and journalism
These grand institutions always frighten me a little; founded in 1887, the International Herald Tribune is one of the three English language dailys to be truly 'international'.  The letters IHT loom large, dominating the front of the building. The typeface is so recognisable they have almost become a trademark. In the lobby, an imposing statue of an owl, the symbol of the newspaper, looks down on me. Some say that's where the French saying c'est chouette ('it's cool') is derived from. The prestige of the International Herald Tribune is undoubtably associated with the legendary scene in the Jean-Luc Goddard film A bout de souffle ('Breathless', 1960), where the beautiful, androgynous actress Jean Seberg shouts on the Avenue des Champs Elysées in Paris, trying to sell the New York Herald Tribune! (the old name for the current IHT, as it's often called).
Meeting Miss Smale
The editorial office of the most French of anglophone dailies used to be on rue de Berri off the Avenue des Champs Elysées, but is now located in the more elegant Parisian suburb of Neuilly - where French president Nicolas Sarkozy was raised and was mayor (1983-2002). An assistant leads me to the big boss's office, which is not really very big. Stacks of newspapers and articles surround Alison Smale's desk. The wonderful English accent which welcomes me allays fears that her professional stature might provoke. Smale is a dynamic and pragmatic woman, one of those who knows what she wants and who will do anything to get it. She has been the managing editor of the prestigious International Herald Tribune since December 2008. The paper is the global edition of the New York Times, where she spent six years as deputy foreign editor. Alison has known how to get on in life from a young age: 'I learnt very quickly that by learning languages I could escape the boring life I had been living as a child in England,' she laughs. She speaks Russian, French and German 'as well as I speak English,' she is keen to point out.
'The European press is too one-sided. British articles get straight to the point'
'I decided to do it, and I did it,' Smale says frankly about becoming a journalist, after having studied the subject at Stanford university in 1978. Her perception of journalism diverges in some aspects from continental practices. She is proud of being the head of a newspaper such as the IHT precisely because it favours the type of information which is full of common sense and pragmatism. The rest of the European press is guilty of being too one-sided. 'Continental newspapers exhibit their political tendencies and revel in intellectualism, whilst British articles get straight to the point.'
International girl
Her professional path is immense and, to say the least, international. 'My first job was in Germany (at the UPI in Bonn - ed) in 1978. Then I was sent to London in 1979 - and that was the last time I lived there! My career took me back to Germany, then to Moscow, Vienna, New York, and now here I've been in Paris for around the last five years,' she lists enthusiastically. 'Since I was a child, I have had an affinity for learning languages and a talent for getting to know other countries, to be everyone's eyes and the ears, as journalists do.'
Many of Smale's professional recollections are tied to eastern countries. Appointed the associated press bureau chief for most of eastern Europe in 1986, she covered historical events from the dissolution of the USSR to the rise of Slobodan Milošević in Serbia. Alison has been affected by the Chernobyl disaster. She was in Berlin to cross Checkpoint Charlie along with the first inhabitants of the eastern zone after the fall of the wall. Her first-hand outlook on Europe is therefore acute and passionate. 'You need to have lived in those countries which have no freedom to understand what it truly means to live in freedom,' she explains, referring to the ex-communist countries of eastern Europe. Smale deplores the fact that on 1 May 2004 the only celebration was for workers day; the fact that Europe decided to welcome eastern European countries was ignored. According to her, the problems encountered reside in the structures which were 'set up to organise fifteen countries, and therefore not suitable for 27 countries.'
'It was unthinkable 15 years ago that we could take part in elections for a common legislature, chosen whilst living in free countries'
And although the French élite are pro-Europe, they do not take enough time to explain the reasons for expansion. 'Therefore we have the 'Polish plumber' stereotype and the 'no' to the 2005 referendum on European constitution (as the French and the Dutch voted in 2005 - ed).' These realisations don't seem to discourage her. Even if she will not be voting in the European elections between 4 - 7 June - for practical reasons - Alison is convinced that the idea of Europe has made great forward strides and that this is the real victory. 'It's a great achievement,' she adds with some emotion. 'It was unthinkable fifteen years ago, that from Copenhagen to Malta via Porto and Tallinn, we could take part in elections for a common legislature, chosen whilst living in free countries.'
Translated from Alison Smale: «I giornali continentali esibiscono la loro tendenza politica»