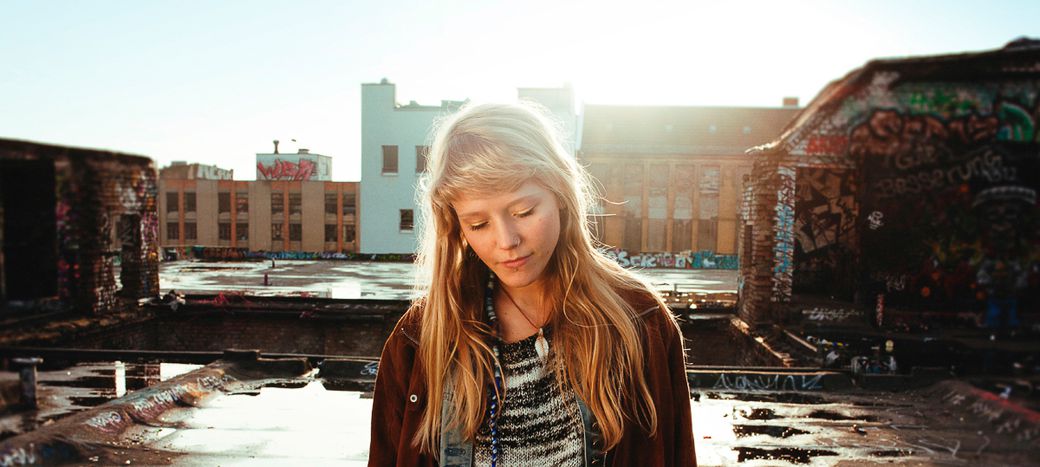 Alice Phoebe Lou: Berlin's best-kept secret
Published on
Alice Phoebe Lou, a 21-year-old singer-songwriter from Cape Town, South Africa has been performing on the streets of Berlin since 2013. A beautiful performance at TEDx Berlin that same year went viral and took her music beyond the German capital. Towards worldwide fame and fortune? Not if she can help it. Alice talks street performance in Europe, social awareness and protest music.
"Basically, I had always wanted to perform with fire – fire dancing." It's not the opening act you expect to hear of a folk singer-songwriter's journey into the world of music – but nothing about Alice Phoebe Lou is typical.
Alongside bandmate Matteo Pavesi, an Italian multi-instrumentalist, the 21-year-old from Kommetjie, South Africa plays a real mix of folk and electronic music, inspired by the likes of by Patti Smith and Portishead.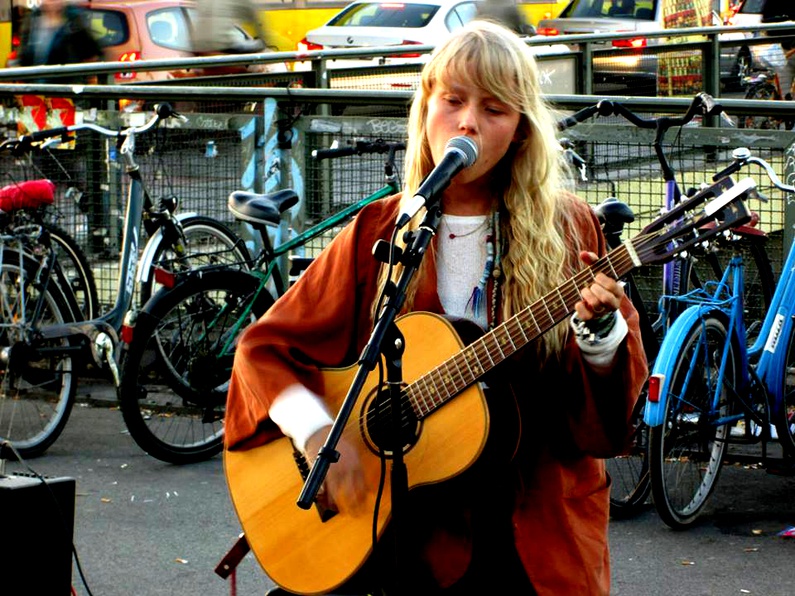 Coffee in hand, Alice talks to us after playing a short set by her usual spot outside the entrance of Berlin's WarschauerStrasse S-Bahn station on a beautiful late spring evening.
Fiery heart, fiery mind
Though she's now settled in Berlin, Alice's first experience of Europe was a little more intense. Eager to travel and with the FIFA World Cup happening in South Africa, the 16-year-old Alice, armed with a Belgian passport, went to stay with her aunt in Paris.
"So I went to Paris and I spent two days with my aunt but I couldn't handle it because she lived in a very small apartment as Parisians do. She smoked like 40 cigarettes a day inside and she was super paranoid about everything and didn't want me to go out past 11. Even at 16, I was young but I was quite an outgoing person and I didn't want any restrictions."
Realising a friend was living in Châtelet, in the centre of town, Alice moved in, sleeping on the couch and making her baguette and cheese money from street performance.
"I'd been a dancer for a lot of my life so I bought a pair of Fire Poi and I walked past the Notre Dame cathedral as the sun was going down and there was a whole bunch of people setting up to play with fire. And they couldn't really speak English and my French was shit so we spoke a bit and I went there every night and learnt how to perform with fire."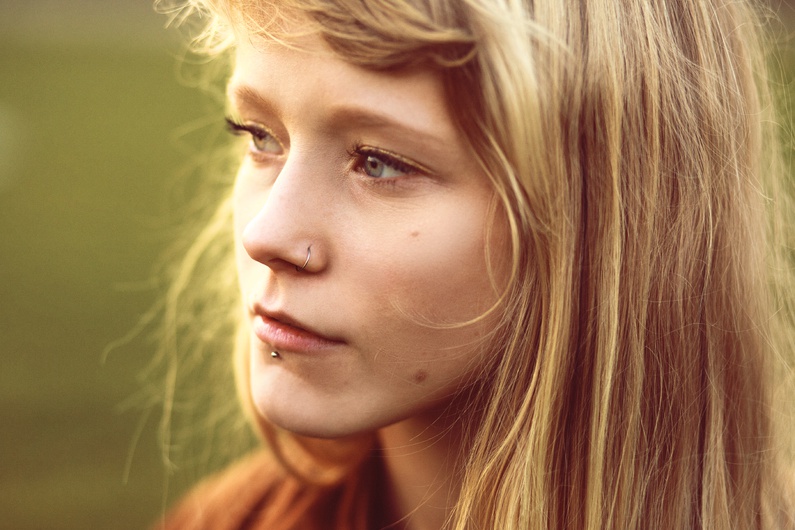 "It really struck me what an amazing way of living street performance can be. Paris is such a rough city sometimes – I found the energy quite intense sometimes but I was meeting the underbelly, all these performers who had, kind of, gypsy lifestyles and went against the grain. I really liked this idea and I was really fascinated by this.
"I had this double life as I was living as a street performer in the evenings and I would come back home and my friend would have house parties nearly every night with parties of mostly boys between 18-25 and they were all hyped up on coke all the time. And they were spitting on the floor and putting their condoms wherever the fuck they put them in the toilets – and I was cleaning that shit up the next day."
From Amsterdam to Berlin
Toughened up by this "life lesson", Alice returned to Europe on a gap year with her Fire Poi as soon as she finished school, this time rocking up in Amsterdam.
"I was having awesome times meeting awesome people, enjoying being an eighteen year-old and then at night I would do a bit of fire performance. It was hard at times, I mean. Sometimes, especially disgusting drunk guys would oversexualise a dance performance and decide that they are able to say disgusting things to you and treat you like dirt. And that's also a learning experience – it's something that toughens you.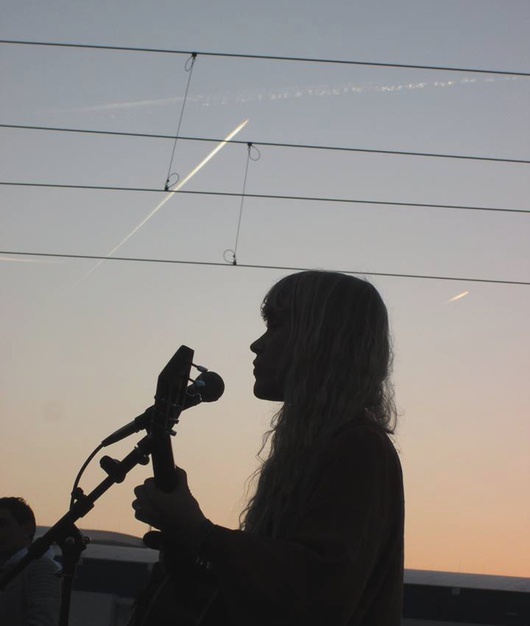 "Also, the other street performers in Amsterdam are so rough, they're very territorial. I had to deal with people who are in their thirties, who had been doing it for 15 years, who have a serious something-addiction and who think that you're someone they can fuck with, so I had to get a thick skin and that was super interesting. But everywhere – the south of France, Spain, Italy –people were saying, "Go to Berlin, you'll love it there"."
But having eventually arrived in Berlin, it wasn't immediately the utopia so many made it out to be.
"I was overwhelmed. Everywhere I looked, there were street performers of every form of every degree of quality. The first thing that happened was I was playing with fire here [near Warshauer Strasse] and I made one euro. I sat down on the ground and thought "Fuck. What the hell am I going to do? I'm hungry, I don't know where I'm sleeping, and I was too stubborn to ask my parents for money."
A change of tack was required.
"So I said to myself, "I have a guitar..." I was travelling with a Baby Taylor, which is a really nice guitar and I just decided to try it. And it was horrible – fucking horrible. I hated it so much – but I didn't know what to do. I didn't know anyone here.  Then this guy came along with his amplifier, and he was playing so I just asked him like "can I play one song?" I knew how to play Knocking on Heaven's Door - and all of a sudden, there was a crowd and he got a couple of euros. And I thought "hey, this is something I could do..."
The next step? Composing her own songs. Oh, and forming a street band with five Israeli guys who had managed to escape conscription.
Different values
With her gap year almost up, it dawned on her that she didn't have to "study and get my degree and get a job and have kids and die." In 2013, Alice returned to Berlin, liberated by this realisation. And with her own amplifier (the best battery-powered amplifier in the world"), paid with two weeks of solid busking, Alice was ready to kick on.
YouTube: Alice Phoebe Lou & Matteo - Red
"I don't need security, any conventional form of success – I'm just happy the way things are. It is a difficult route in some sense but it's completely liberating in another. What happened after the TEDx is that all of a sudden, you're like a commodity. People with profit-orientated intentions, which is fine if you're a businessman - I'm not saying you're the devil - but people come and see that you're a young, blond, 21-year-old with a nice voice and suddenly they have dollar signs in their eyes.
"There are all these opportunities that come that I don't feel are opportunities – things that are going to turn my music into a business - and that's not what I want to do... Like the other day, I got an offer from Coldplay to be their opener for their European tour. And that's cool! I was honoured and it's awesome but is that what I want to do?"
Instead, through her street performance and independent concerts in larger venues, Alice has self-financed her own album (to be released this autumn). Just like her current repertoire of music, it will be politically charged.
"I was born in '93, which is the year before apartheid ended in South Africa and my parents are freedom fighters. So I'm so lucky that I was born into a very open-minded, very conscious family because all of these things were embedded in me. I grew up the music of a lot of freedom fighter musicians like [Sixto] Rodriguez or Miriam Makeba – these people who use their art as a form of social protest, which is something the pop music industry doesn't know anything about."
The path trod by Alice Phoebe Lou is different to your average musician. So far it's led to experiences such as playing in the West Bank to a recent concert inside a Berlin church alongside trapeze artists and dancer duets.
Who knows where it will lead to next?