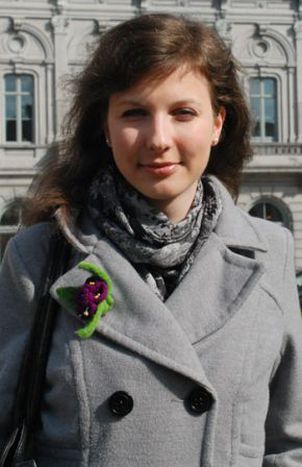 Agata Patecka, a philanthropist at the head of the AEGEE
Published on
Article by Zoé de York Translated by Joana Cansado The European Students Forum Association (Association des États Généraux des Étudiants de l'Europe – AEGEE) has just blown 25 candles. On this occasion, Cafebabel Brussels set out to meet with Agata Patecka, its president in Brussels. Agata Patecka has never been one to sit on the benches of History, watching as the progress train goes by.
She has always aspired to give a sense of purpose to her life.
Six years ago, at the beginning of her university studies, the young Polish girl joined the AEGEE, a youth organisation active on behalf of superior education, stability, peace, cultural exchanges and active citizenship.
Resolutely committed to the project at her local branch of Poznan, she soon found herself at the core of the association: «It was all very much unexpected, following my election within the working group on «international politics». Out of the blue, those who were my monitors at the time started asking about my views on their work. »
Leading an international organisation at 24
In April 2009, she was elected President of the Directive Committee and overturned her life projects. «I was finishing my dissertation and in two months I completely changed my topic, launching myself into the study of European policies. I don't know how, but I managed to hand it all in on time. In July, I moved to Brussels. » From then onwards, Agata Patecka has worked as a volunteer in the Belgian capital.
The AEGEE was born in Paris in 1985. The association is made up of over 240 local branches throughout Europe and beyond, in places such as Azerbaijan or Russia. The Directorate Committee, AEGEE Europe, coordinates the work of these local affiliates and the flagships projects. An «admiralty flagship project» that guides the organisation's activities for two years.
The association at the origin of the Erasmus program never brushes aside its entrenched values: annually, and for the past 23 years, local branches put together various summer schools. In about one hundred of these courses, young people from all over Europe discover a non-formal kind of education: a teaching project adopted by the AEGEE. Through creative and participatory methods, the students test and develop their competences. The association does not hand out diplomas in the end, but for Agata these are life-changing, prejudice-shattering experiences.
Life after the AEGEE
Last March, a new president was elected. He will take office in September, as leader of the association. Nevertheless, Agata will not relinquish her work as an NGO activist: «I love being active in an NGO, too much to stop doing it», she believes. «I trust I will continue working for this kind of associations, be it here, in Poland or somewhere else! »
Agata Patecka recalls the reasons behind her engagement: « We become a little bit what we live and whom we share our experiences with. » The AEGEE has certainly changed her life and, step by step, the lives of the young European who belong to it.