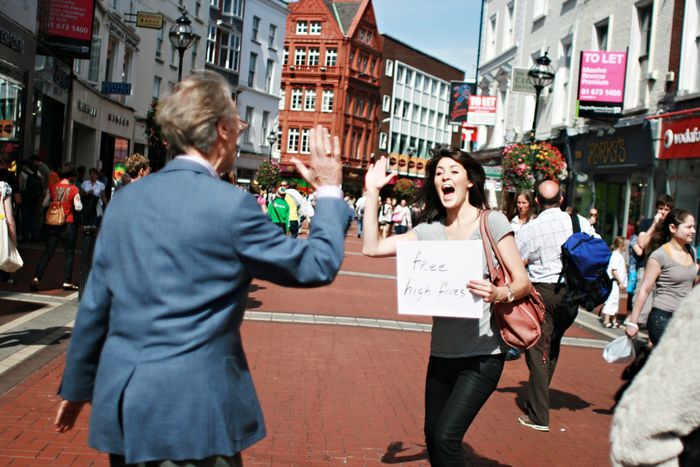 Acts of Random Kindness Ltd: Irish clothing startup to 'change your world'
Published on
'It's like putting on a superhero costume - except your superpower might be the willingness to give up your seat on the bus,' said the Irish Times about a group of young people who hold business meetings up trees. With a new website and T-shirt range due for launch, one of the four members describes the nature of the startup
I've just graduated from Trinity College Dublin with a degree in English, but I didn't fancy hunting a McJob or joining the dole queue. I found a group of young people doing something much more interesting. Ark° was created in November 2008 by founder and sole shareholder Cameron, 19, whose teachers predicted that he'd become a stuffy accountant, neck deep in profit and loss. Ronan – who left behind a high flying job in the Irish department of foreign affairs - Bridget and me, all 22, came on board between February and April 2009. We've left the 'job world' behind because we want to change the world in tiny but significant ways: we perform Acts of Random Kindness.
Starting Ark°
Cameron was 18 when he took up a friend's challenge to perform daily 'Acts of Random Kindness'. He bought the person behind him in a queue an ice-cream. It turned into paying for random petrol pumps, taking homeless people out to lunch. At the same time, he was running a separate clothing enterprise on Ebay. While on a gruelling trek in the Wicklow mountains, he saw how he could combine both to change the world. Instead of booking flights to a sunny resort on the Mediterranean to celebrate the end of secondary school, he visited an ethical factory in China, later launching 600 self-designed, 100% cotton polo shirts as a line in December 2008. He has to date sold just under 400 shirts for under £28 (31 euros) from the first range, and for his first big Ark he emptied the business bank account to buy Christmas presents for the homeless.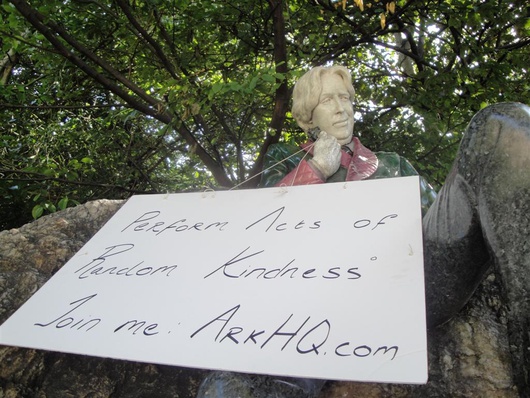 Ark° is part of a new movement of companies showing people that they can make a difference as a consumer. The latest T-shirt range will be launched in November 2009, focused around a christmas campaign which will be directed by our community according to how they want to make a difference. The more people that buy, the bigger the impact. The range has three different colours, are long and short-sleeved and cost between 20-30 euros.
Young entrepeneurs
Ark° is about having business meetings up trees, skipping the office for the cinema and ensuring that we are out there interacting - like at the Electric Picnic festival, for example. We distributed pegs with a suggestion such as 'Give a randomer a nice big hug' which people performed, clipping the peg on to another poor unsuspecting festival-goer who then paid it forward; they even became fashion accessories by the end of the weekend. We also organise projects that spread kindness to those who need the help a little more than most. We recently spent a Saturday afternoon entertaining some old folks at a local nursing home. They weren't quite sure what to expect when we arrived with new fangled board games such as Connect Four and Discover Ireland. We soon had them singing along to tunes on the guitar and playing a game of charades with us.
We don't believe in a world of profit and loss; we cut a below average wage, and the rest goes into making the world a better place
The aim of these projects is to make sure that we keep living the message we are attempting to promote, as well as showing our 400 volunteers in over twenty-five different countries just how easy it can be to make someone's day. Whether it's repainting an orphanage in Zambia or helping a family take in the turf in the wilds of Connemara, they are the real force behind the movement. Thankfully, unlike Cameron's teachers, we don't believe in a world of profit and loss; the four of us make a below average wage, and the rest goes into just making the world a better place, no strings attached. We've even got a spin on the Lisbon treaty: on 3 October we'll collect old posters, make them into flower boxes with our other volunteers and give them to our neighbours.
Three tips on starting a start-up, from Ark founder Cameron:
1. The most important asset is your unique idea
Letting it expand and grow in your head is dangerous if it stays there. It's very easy to dream and approve your own amazingly fantastic ideas and keep them inside your head so no-one can poke holes in it. Ask friends what they honestly think. Give them the space to openly criticise and find faults in your idea. An exercise that will pay off in the long run even if it hurts at the time.
2. Don't hesitate
If you believe your business can be successful and sustainable, take the leap while you're still excited. Buy the domain name, start making calls, order business cards. It costs little but it could be enough to motivate you to work towards freeing yourself from your boring 9-5.
3. Paying for advertising is a waste of money
It will be looked over by 95% of your market. Use the press to your advantage. Create a story worth reporting on and get your publicity from there.