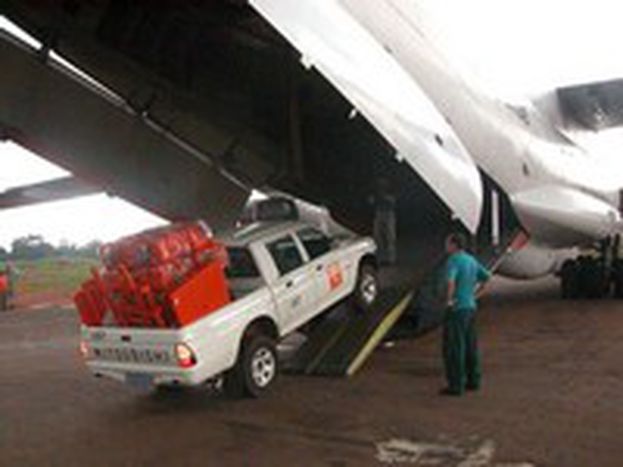 Action, not words, needed in DR Congo
Published on
Translation by:
corina gafner
The United Nations have asked for military support from the EU for their Mission in the Democratic Republic of Congo. But Germany is hesitating about taking over leadership, and leaves doubts regarding the common defence policy.
In the Democratic Republic of Congo, the third largest country in Africa, the atmosphere is almost like in a civil war, despite peace agreements signed in 2003. The NGO International Rescue Committee describes the crisis as having "the largest documented death toll in a conflict since World War II". It is estimated that nearly four million people have died since 1998.
Aid for 17,000 UN soldiers
The elections planned for April are a small ray of hope, for these are the first to be held since independence from Belgium in 1960. It was stated in the peace agreement that on 30 June 2006, the all-party government of Joseph Kabila would come to the end of its mandate. On 18 February, President Kabila introduced a new constitution, yet it is still doubted that free elections will soon take place.
A stable political arena is needed for elections. Successful democratic voting could help stabilise the country, yet if they are a failure, this could lead to renewed violence. It is for this reason that the UN Secretary General, Kofi Annan, asked the EU to provide on location support to assist the 17,000 strong UN troops. However the EU is having problems finding a member state to lead the mission. Especially in Germany, where recently there have been debates on future leadership role of a possible mission.
Ready for a mission in less than 10 days
However there is already a political framework for the mission: in April 2004, EU country Defence Ministers adopted the concept of rapid deployment 'battle-groups' , which would be sent on missions such as the one in DR Congo.
13 of these battle groups have been planned, each one made up of 1,500 soldiers. Their task is to support the UN in missions in crisis regions, and to be on location in less than ten days. Currently, they are qualified as having Initial Operational Capability, but in 2007 they will have Full Operational Capability. Germany is participating in three of the 13 groups of the programme. One of these is a Franco-German battle group which already exists and should be fully operational in 2007.
Yet reality paints a different picture. German Minister of Defence, Franz Josef Jung, firmly refuses to take leadership of the mission or send combat troops. There is currently talk of sending 500 soldiers to DR Congo; not for combat, but for logistics or sanitation help. Support from DR Congo would be more important than ever. "Clarification needs to be given to the international community explaining that the rules concerning conflict in former Zaire (now DR Congo) is an absolute priority," underlines Ulrich Delius, Africa expert, in an interview with Der Spiegel. It is important that the EU understands that it can not accept collective massacres.
Germany's indecision increases the doubt regarding the concept of Battle-groups. All talk and no action. Of course, being able to send a team to a crisis area for 6 months means that every country will have increased responsibility and costs. However Germany refused to accept this responsibility. It missed the chance of sending a sign of hope to the whole crisis area.
Translated from Kongo: Den Worten Taten folgen lassen