ABWAB: the refugee newspaper advocating women's rights
Published on
"Women's rights are human rights - they exist for all of us," says Lilian Pithan, the German editor of ABWAB (or "Doors" in English) - the new multilingual newspaper for refugees and locals. This month, for International Women's Day, the newspaper turned its focus to women's issues and gender equality.
cafébabel: Lilian, as the German editor of ABWAB, the first refugee newspaper in Germany, what does your typical workday look like?
Lilian Pithan: ABWAB was founded as a newspaper by refugees, for refugees. It's now a newspaper for both refugees and locals, so we are constantly making our content more and more bilingual. Our employees are scattered all over Germany, in other European countries and across the Middle East. So everything we do takes place online. We organise everything via e-mail, Facebook, Skype and Dropbox. My workday looks different every day. But it mostly involves proof-reading, writing, translating and introducing people to ABWAB wherever and whenever I have time. Sometimes I work at home, but more often you'll find me working in different co-working spaces all over Berlin or even on the subway.
cafébabel: This week sees ABWAB focus on women's rights: what kind of stories can we expect to see?
Lilian Pithan: There are, of course, many contributions that focus on feminism and women's rights, but that's not to say that that's all you can expect. In the new issue there are also the usual short news pieces from around the world, stories about Human Rights Watch and their latest projects, or film reviews from the Berlinale. The idea behind this issue is not that all of its contributions are about women, but that every piece is written or translated by women.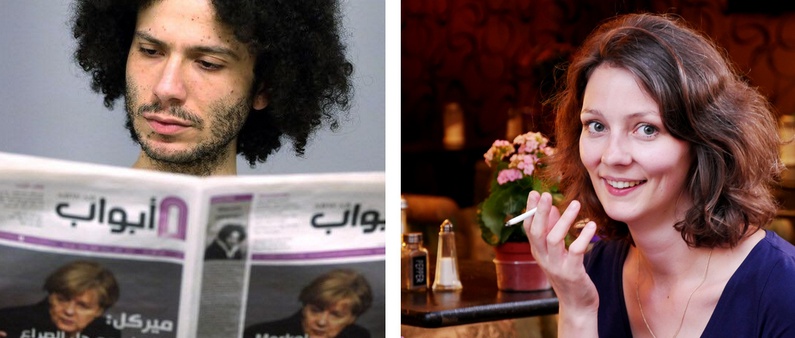 cafébabel: Feminism is not just for women, so why did you decide to hand over editorial control to women this month?
Lilian Pithan: All of the articles in the current issue are aimed at both men and women. It wasn't a matter of writing about "women's topics." So, in this sense it's not a "women's magazine," but a magazine for everyone that just happens to have been made by women. Of course, the long-term goal is to achieve gender equality in our editorial team. We are quite close to an equal representation of men and women so the fact that we created an issue that was made entirely by women doesn't mean that we always want to work like that. We are concerned that this move could be sensationalised. But, by taking this step we wanted to draw attention to the fact that the media in the Arab world, but also in Europe, is still very much dominated by men. Unfortunately, many people are not aware of this unless they are confronted with the complete opposite scenario.
cafébabel: Syrian writer Rosa Yassin Hassan has taken over the role of editor-in-chief for this issue – which topics does she particularly what to draw attention to?
Lilian Pithan: On one hand, Rosa advocates that women who write are taken more seriously and their works are more highly regarded. And on the other, she also wants to draw attention to how and why women are fighting for their rights in the Arab world.
cafébabel: Since the magazine's launch in 2015, you have consistently placed a focus on women's stories. Have there been any conflicts in the past with regards to this?
Lilian Pithan: From the very beginning there were 2-4 pages set apart for women's issues and stories which was looked after by our editor Walaa Kharmanda. She and our chief editor Ramy Alasheq worked together previously in Jordan to publish a feminist magazine. The idea of ​​feminism did not come into ABWAB's editorial line until it had made its way to Europe.
cafébabel: The newspaper was founded in Cologne; to what extent has it dealt with the events of New Year's Eve?
Lilian Pithan: Of course we've dealt with it to some extent. It all happened right after the launch of ABWAB. We know that the trivialization of sexual harassment in many Arab countries, and the state of women's rights in these cultures have contributed to the problem. But the debate in Cologne has also spread extreme racist and sexist stereotypes about "the Arabs"or "Arab Men" in German media and society. We covered the topic repeatedly over the following months and contributed to the debate with articles on the theme of "no means no" and brought new light to ideas about what constitutes sexual assault. Many of our pieces were picked up and hotly debated by our readers, especially on Facebook.
cafébabel: ABWAB is printed in runs of 70,000 copies and distributed nationwide free of charge. How do you finance it?
Lilian Pithan: We has several advertisers, like Moneygram and Ortel, who advertise in Arabic. Sometimes, the BAMF or the Ministry of Labor also advertise special training programs for refugees. All of this helps us to cover the costs of printing and distribution, and pay some of our editors and freelancers. Most of us work voluntarily, but our goal is to change that and make ABWAB financially viable.
cafébabel: Will Emma Watson be appearing in ABWAB any time soon?
Lilian Pithan: I can't really say, I don't know. The feminist discussions in our magazine are quite different. Personally, I have nothing against her photo shoot - if she wants to do things like that, then she should do it. At the same time, however, I am always in favor of striking up debate with photography.
cafébabel: What do you think of initiatives such as the German Flirtcoach, who aims to teach Arab men how to flirt in German? Lilian Pithan: I find this pretty cliché. This whole thing serves to further prejudices and certainly doesn't work to build bridges between the cultures. Who says that "all Arabs" can't flirt or that "German men" are the right ones to teach them this? And why are there no flirting courses, in which "German women" are taught to "wrap Arab men" around their fingers? For me this stinks, very strongly, of stereotypes and sexism. Aside from all that, I generally consider flirtcoaching to be a pretty weird profession.
cafébabel: On the subject of women's rights in Arab countries, Europe is embroiled in debates over headscarves - what position do you take on this subject?
Lilian Pithan: Of course, debate about the headcarf comes up again and again in ABWAB. The difference, however, is that the discussion here is taken on by people who actually come from countries where the headscarf is seen everyday. The discussions therefore look quite different in the points that are brought up. We have authors who defend the headscarf as well as those who advocate against it. We present both sides of the debate in order to encourage debate among our readers. What we don't want in any case is to tell the German readership what they should think about this. 
Translated from Flüchtlingszeitung ABWAB: Türen auf für Frauenrechte