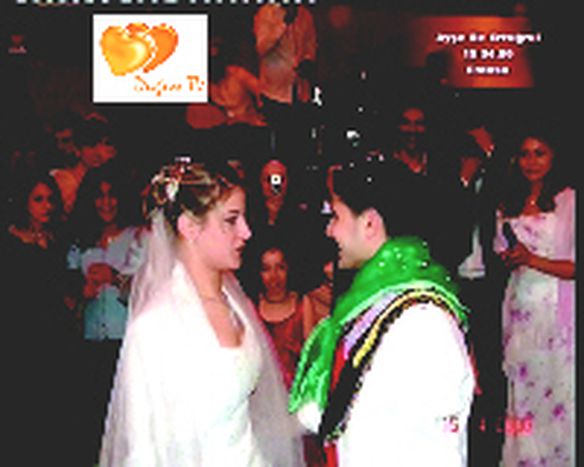 A TV star... for just €300!
Published on
Translation by:
elizabeth mayne
Cologne-based TV channel Dügün TV broadcasts weddings all around the world
The white DVD is stamped with two three-dimensional hearts. This is the logo of Dügün TV, which has been broadcasting from Cologne since February. The DVD shows an extravagant Turkish wedding in Bordeaux. Over a thousand guests have gathered in an enormous hall decorated for the occasion. Sitting at long rows of tables laid with lavish food and drink, they await the arrival of the bridal party. On stage a folk group is playing. Finally the couple arrive through an arch of roses held by a dozen women and young girls. The bride resembles a porcelain doll with a snub nose and full lips. She has a red belt around her waist - a sign that she is leaving the parental home.
A niche market
A dügün, (spectacular wedding) is a status symbol in Turkey. "The more spectacular, the better", explains chief editor at Dügün TV, Hatice Balaban-Coban. The scale of the wedding celebration is supposed to indicate the popularity of the family.
Together with her husband Mehmet Coban, the forty year old discovered a niche in the market and was quick to react. According to the Centre for Turkish Studies in Essen there are over six million Turkish immigrants in Europe - and they can party hard and well. Unfortunately their relatives in Turkey often cannot get a visa for weddings and as such are unable to take part in the festivities.
Dügün TV has brought an answer to this problem. They broadcast wedding films on television. Two hours' airtime costs €300 (inc. tax). The Dügün TV channel can be received by TürkSat 2 satellite all over the world. Feedback and contracts come from as far a field as Australia and the USA. Presenter Kanun Yildirim says, "For a small price everyone can be "king for a day"". The former radio presenter from Istanbul has lived in Germany for four years and is very well known in Turkey and amongst Turkish migrants in Europe. The migrants' families are proud that their celebrations are shown on television. The channel is financed by income from advertising and the sister shopping TV channel and chat show. "People like watching weddings," chief editor Balaban-Coban says, "and so we became known almost over-night without advertising expenses."
I do - live online
Customers give videotapes of their big day to Dügün TV suppliers who operate in about 20 European cities or send them directly to the channel. The editors put together a film from this material which is often shown several times in a 24-hour period. In a few months' time wedding parties will even be celebrated at the studios. Next to the head office in the industrial estate of Cologne's Dellbrück district there is a warehouse which is being transformed into a party room.
At the moment they are pulling out all the stops to develop the channel's website. In the future weddings are set to be broadcast live over the internet. "Everyone is welcome - Europeans, Africans or Arabs - we broadcast all weddings," says Hatice Balaban-Coban. Where TürkSat 2 cannot be received, people can always watch it online. "Only weddings with provocative statements and flags that are shown more often than the couple are not accepted," assures the chief editor.
Increasingly, viewers send text messages to the channel which are shown on the ticker at the bottom of the screen. "Hey, you in the red dress with long brown hair at Ayse and Halil's wedding - do you want to get to know me?" is just one example. In this way Dügün TV builds links amongst immigrants in Western Europe.
New cars for workers
The channel employs around 40 full-time employees and 20 freelancers. "Turks are responsible for creativity and the Germans cannot be beaten on the administration and technical side," says Kanun Yaldirim who is responsible for scheduling at the channel. Apparently there is no clocking on and off at Dügün TV. It seems every team member brings enthusiasm and works as though it were his own family business. The mail order business has been running for years and "we don't have a high employee turnover," says Hatice Balaban-Coban. It seems those who come, like to stay. That comes as no surprise if you take a look in front of the offices. There you will see nothing but big, new cars.
Translated from Fernsehstar für 300 Euro