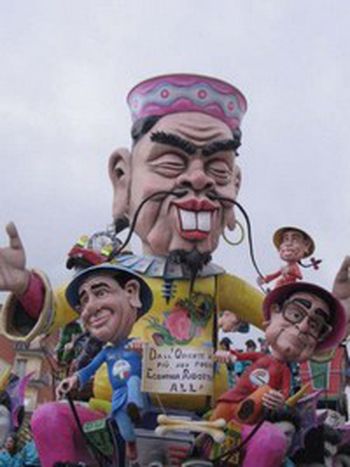 A postcard from Putignano
Published on
Translation by:
gaia manco
Symbolic floats, masks, satirical rhymes and dj nights: the Carnival tradition of Putignano relived through the eyes of a 20 year-old.
Some 20-year-olds dream of a motorbike. Antonio, on the other hand, dreams of one day being part of Putignano's Carnival Foundation. On Saturday nights, most 20-somethings go to a club and devote Sunday mornings to sleep. Antonio instead, wears his mask and processes through Putignano's streets, alongside ten metre high papier-mâché floats and with other associations of the town. This celebration directs the media attention on the town, together with other Italian cities like Venice, Viareggio or Cento. The backdrop for these celebrations is the traditional conical-roofed houses in Apulia's countryside and snow-covered olive trees in the cold February in Southern Italy.
When you live this experience from young, the festive feeling of the carnival becomes a part you. This is what happened with Antonio, who devotes most of his spare time to studying the carnival traditions of his town. Now he passed to the other side of the barriers and, with his first steps as a journalist, he records, analyzes and extends his knowledge of the traditions and the legends tied to this event. And he writes this information on a website, which represents one of the media stores of this carnival which finds its roots in ancestral medieval peasant rites.
The oldest and longest carnival
Antonio is a law student and draws a lucid analysis of how Putignano lives carnival today: "We organise fantastic parades, but they are more and more for tourists. Most of the young people feel involved only if alongside the parades we organize a dj night. Putignano likes to think of itself as a modern town, and this almost clashes with the ancestral agricultural rites which are the origins of this celebration". Carnival came about as a peasant rebellion against the established power: as a result, a new code of behaviour, the disappearance of moral duties, and a new transformed reality arose. Every day, reality was temporarily stopped and replaced by the masked fiction, without losing the sense of 'pretending'. Today, carnival is a cruel criticism of powerful politicians, show-business jet set and the loss of moral values of today's society. Its weapons are satire and coloured papier-mâché floats.
"The carnival of Putignano has its roots in the far Middle Ages, on the morning of December 26 1394 when St.Stephan's relics were carried from Monopoli to Putignano, accompanied by a procession where the peasantry sang religious psalms. But then we had the jump from sacred to profane, and the religious psalms turned into songs and rhymes making fun of the authorities." Antonio says. Six centuries later, the tradition is repeated, starting every 26 December. "It is the longest carnival as it begins on December 26 and ends on mardi gras, this year on 28 February", Antonio proudly continues, "but is also is the richest in events: besides December celebrations, we have parades almost every Sunday in February, and we even have a summer edition on July 8th".
Linked traditions in the Mediterranean
The mask symbol of Putignano's Carnival is a 'diplomat': alias Farinella, similar to a joker. His favourite pastime is to bring peace between cats and dogs. Obviously there is reference to the ancient agricultural culture: "his name comes from a dish eaten by the poor," Antonio explains, "a type of bread made of chick-peas and barley used instead of bread to clean the plate of left-over sauce."
Putignano's Carnival is linked to the traditions of other Mediterranean countries: on 2 February, on the occasion of the religious celebration of Candelmas, the 'Bear's day' is celebrated: a masked craftsman runs through the village with a bear – or rather someone in fancy dress - on leash, and spends the whole day making jokes of all kinds. "It is a sort of meteorological oracle and if on that day the weather is good, the bear can go out seeking for food for its hibernation, as it means that winter will continue for a little longer. Bad weather means that the winter will soon be over," Antonio tells.
And when the parades are over, in Putignano they give Carnival the 'extreme unction' in a particular way: fake priests dip a small broom in the water of a miniature toilet (the 'priso' in the local dialect) and with this 'holy water' they splash passers-by, announcing that 'Carnival is dead'. Meanwhile, from the near bell tower 365 tolls resonates: they remember to the faithful that the celebrations are over and Lent is approaching. It is now time for meditation and abstinence, recalling the days Jesus spent in the desert before starting his preaching. Antonio says with a smile on his face, "But until then, we'd better have some more fun!".
Translated from Una cartolina da Putignano