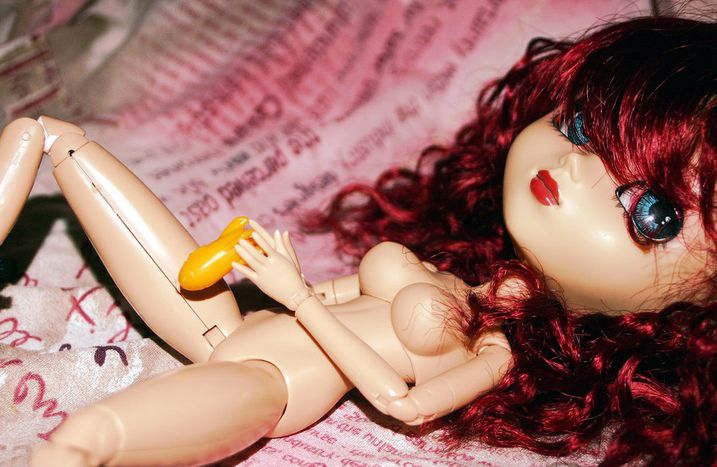 A Parisian male dissects success behind sex toys
Published on
A cheeky little vibrating bath duck or Ben Wa balls between your legs...for us guys, it all seems a bit unreal. Having never watched Sex and the City nor participated in an afternoon Tupperware party with my aunt, I am missing two indispensable references which might allow me to understand the boom of sex games in recent years
Sexual games are no longer taboo. What could be more commonplace. Behind these ever more varied and colourful sex toys there is also a lucrative market and increasing numbers of women who make a living by supplying happiness to others. After all, not many people still believe that discussing sex toys is dirty or perverted. These objects of personal pleasure date back to ancient Egyptian times: certain hieroglyphs show women sporting penises in honour of Osiris. They were developed at the end of the nineteenth century in Europe as a remedy for feminine hysteria which was an 'illness' treated with the use of vibrators! And a good thing too, is the cry not only of thousands of single women, but also women (and men) in relationships who wisely combine natural and plastic pleasures. But when will more women openly admit to using sex toys? 'The image of the sex toy has evolved but I wouldn't say that it has changed,' admits Sylvie, who is a 'happiness ambassador' for SoftParis, the number one home party seller of sex toys in France. Before sex toys, it was all dildos and blow-up dolls, which are not ideal. Now, you can get massage oils, games for couples…'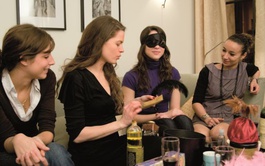 Sylvie knows what she's talking about. For the last three years she has organised sexy shopping evenings all over France at the request of women who want to discover the world of naughty games in a discreet but playful manner. For us guys, I must admit that it all seems a bit unreal. Having never watched Sex and the City nor participated in an afternoon Tupperware party with my aunt, I am missing two indispensable references which might allow me to understand the booming development of sex games in recent years. 
Global trends from Sex and the City to Sweden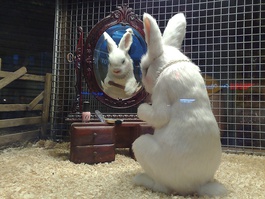 Take the Rabbit, for instance. I won't go into detail as to why this toy is so special - except to say that its power resides in its rotating ears – but I will mention the reason for its success: a 1998 episode of the Anerican HBO series Sex and the City, where the character of Charlotte (Kristin Davis) discovers the eighth wonder of the world. 'In a single day there were no more Rabbits left in Ann Summers stores in England - and there are 125 stores in Great Britain!' blogged AnneLolotte, the creator of SoftParis. 'The women who call on my services want a get-together with friends, like in Sex and the City,' says Sylvie. 'More and more women want to meet up, go to the cinema together, and so on. Selling sex toys during home gatherings fits this party spirit very well: we come to your house for free, we bring the entertainment and we talk about things which women are interested in.' No guys, no football… just other forms of enjoyment.
All of this confirms what one woman once told me: 'If you really want to understand today's women, watch Sex and the City.' But was this craze for sex toys really only provoked by a television series from across the waters? Happiness ambassador Sylvie - who was fired from a job which essentially bored her and who made the best of the situation by launching herself into this new adventure - has no regrets. She says that the success of home party selling quite simply comes from a growing need for human contact. Most of the sexy shopping party hostesses are 'first timers'. For some of them, it's because they don't dare enter a sex shop to make these sorts of purchases. 'These clients want to touch the items, test the creams and oils, try on the sexy clothes and get personal guidance.' It looks like direct selling is making a comeback, like the parties of old which made Tupperware famous. Thanks to home selling, women in the sixties gained more freedom, and now we can add a pinch of sexual freedom to the mix. We owe all of this to two pioneers of sex toy home selling in France, the Swedes Caroline Weinberg and Sophie Hafior-Haimerson and their company, Yoba.
Sexual (and financial) freedom
Economic as well as sexual pleasure explain the success of sex toys. On the one hand, pleasure is clearly linked with therapeutic benefits – and if it makes you feel good it can't be perverted, say sexual therapists. On the other hand, the sex toy industry is hugely lucrative. 'In 2007, I earned 300 euros (£250) a month. Today, as head of the team, my salary is 1, 800 euros (£1, 500) per month". No surprise then that SoftParis recruits 150 new ambassadors every month. 'The recession has worked in our favour,' says Sylvie, 'Each happiness ambassador brings in supplementary revenue, with no time constraints or minimum sales to achieve.' Students, stay-at-home mums, retired women; ambassadors come from all walks of life – just like the customers. 'I always say 'Don't be fooled by appearances',' says an experienced seller. 'The most enthusiastic one in the group often doesn't buy anything, while the shyest comes away with the most products at the end of the party!' Perhaps she will become one of the 170, 000 saleswomen currently working in France...
'The recession has worked in our favour'
The internet is still the most popular means of buying sex toys. According to a survey carried out by netetude in 2009, 61% of French people prefer to buy online. It's more discreet that way. It's no surprise then that DreamNex, the editor of the Sexyavenue site which sells pornographic films as well as sex toys, has been on the stock exchange since 2007. In an era when long-time feminists are opining that we have turned away from equality between men and women, I see only one radical solution. Women of the world, unite! Buy and use sex toys! Men, as always, will follow suit: 85% of people surveyed in a netetude poll admit to using their toys with their partner.
Images: main ©lanylane/ Flickr ; AnneLolotte at work : ©SoftParis ; Rabbit courtesy of Banksy/ thevillagepetstoreandcharcoalgrill.com/ ©markhillary/ Flickr
Translated from Sextoys : la deuxième révolution sexuelle