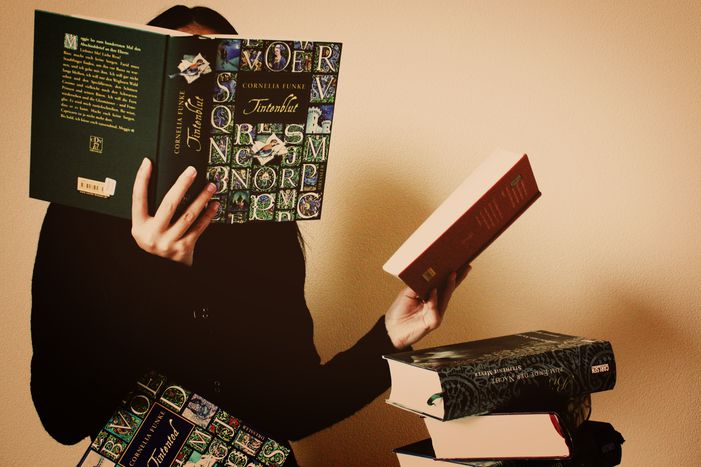 A new digital phenomenon: the rise of the Booktubers
Published on
There is a new trend taking over our screens, particularly among young adults. It consists of reading a book and then producing a video to review it. In short, a book review on YouTube, or rather, a Booktube! But how did this trend appear and what is it all about?
No-one really knows the exact origins of the BookTube community, just that the initiative began a few years ago with some BookTubers who are still very popular online today. Ellen Lundström – who "BookTubes" as "Astrid the bookworm" – told us that "around 2-3 years ago the community really boomed and gathered a lot of momentum, and now many new BookTubers appear every single day. What was initially a very small community is now expanding exponentially and gathering more and more recognition."
But why do people join? It is not just because of their shared love of books. Sarah Churchill says that, "as the Booktube grew as a platform, more and more people discovered that this was a fantastic way to share, discuss and find new book recommendations." She describes how she was creating videos since January 2013 – a mix of vlogs and other review videos – but then discovered the BookTube community and instantly fell in love.
YouTube: June Wrap Up - Ellen Lundström
Rincey A (or "Rincey Reads" on BookTube) expressed a similar experience: "I joined in May 2012 because I wanted a place to talk about the books that I read with other people and to learn about new and different books from others. I didn't really have a lot of people in my real life who read quite at the volume that I do and I am always looking for new places to get recommendations." Ellen adds that after stumbling on it accidentally, she joined immediately because she "felt like the opportunity to speak to a wider range of people who had the same interests was invaluable."
All three state that they have received messages from people who watch the videos and recount how they have gotten back into reading because of them, or how they picked up a specific book because of their recommendation, or started to read simply because they too wanted to share in the excitement conveyed through the BookTube videos! "It is always an incredibly gratifying feeling when someone reads a book you recommended and loves it too," says Rincey.  Ellen adds that the interaction between reviewers and viewers may extend into longer discussions about the popularity or unpopularity of a book, while she also delves into other benefits, "such as growing connections with publishing houses, who can send you advanced copies of books before their release for you to review, which is of course a great privilege."
YouTube: Eleanor & Park by Rainbow Rowell Book Review - Rincey Reads
Sarah also highlights another dimension of the BookTube advantages: "I also know a lot of young people who don't have the support or friendships in real life that encourage their love of reading, so for some the BookTube community is where they find their best friends who share their passion for reading and who won't judge them for it." She adds that as an anti-Bullying advocate she hosts "a 'readathon' every year to raise awareness and encourage dialogue about the issue, and that's been an incredible experience; hearing people's stories and seeing the support the community (both BookTubers and viewers) offer one another."
A wide variety of books are reviewed on BookTube, ranging from the most popular Young Adult (YA) fiction to historical non-fiction, classical literature, contemporary fiction, graphic novels, comics and manga.  In the wake of the Youtubers, music tutorials and Ted-X conferences, Booktubers propose an ample selection of books in an attempt to turn teenagers towards reading. "Reading is one of the best things a younger person can do to expand their vocabulary, improve their writing and also add eloquence to their expression," says Ellen. "Within the YA genre now, wider themes and deeper topics are becoming more and more prominent, and I think this makes reading even more important for introducing young people to issues in the wider world."
YouTube: May Wrap Up & Reviews - Sarah Churchill
But BookTube is not only addressed to young people. It is important for all generations to read books, emphasise Sarah and Rincey. In fact, according to Sarah, "empathy, understanding and appreciation of all kinds of people, beliefs and cultures comes from reading, as well as being the best form of escapism and relaxation. Young people can learn those values through reading as they grow, but some adults could do with a dose of it too." Rincey adds, "books have a way of exposing you to worlds and characters and people that you may not have experienced otherwise. I believe it makes you more empathetic towards others because it truly puts you in the heads of others and allows you the chance to understand things from a different point of view."
An emerging new trend galvanising the traditional allure of reading and of books, BookTube offers a different insight into how technology and more classical forms of expression can be combined. It seeks to remind us all – but especially the Millennial generation – that books will never be out of fashion and will always be a topic for conversation, regardless of the medium through which this is done.