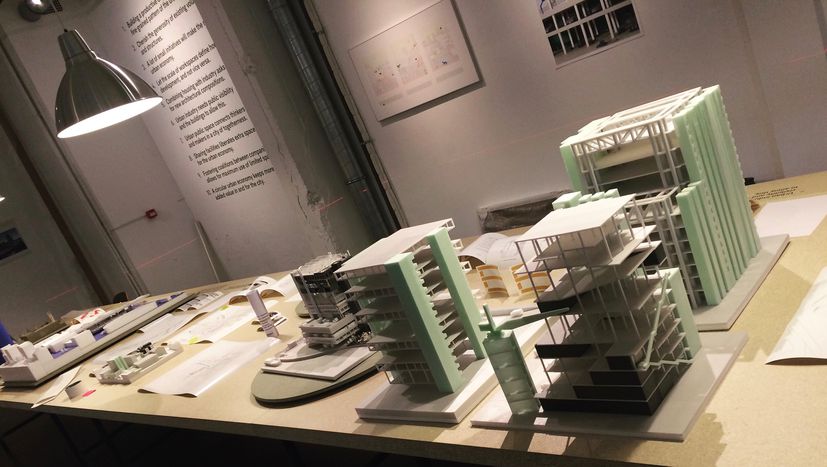 A Good City Has Industry : Hail the Brussels of tomorrow
Published on
Translation by:
Viveka Anandane
Far from a way back to the times of Germinal, the exhibition "A Good City Has Industry" suggests innovative ideas to re-inject industries at the heart of the Belgian capital. In relation to its future event on industrialization, Cafébabel Brussels has taken a sneak peak into the Ravenstein Galery in order to learn more.
The exhibition « A Good City Has Industry » (up to the 15th of January in the Ravenstein Galery), further to its role of optimizing Bruxels resources and wealth, has gave a new thought, in watermarks, to our relationship with the economy.  Too often judged and wrongfully labelled as dirty, polluting, or intelectually poor, the industry is nevertheless the field of the future provide it is used well. 
Taking roots in this assumption, the exhibition, which commissionner is Architecture Workroom Brussels (hereunder named AWB), gives us the key to understand this buried treasure.  Joachim Declerck, founder and partner of AWB, explains us that : « For years, we have wanted to put the industries outside the city. We should however be proud of those industries as they are the starting points of our economy. In this exhibition, we see this idea of an organic city, where industry, for Brussels, is an inherent part of its structure. And above all, we suggest very practical solutions in order to accelerate growth in this sector. ». 
And that is what we like at Cafébabel as, far from making simple statements, the exhibition suggests "10 clues to build a productive city", a practical, real, and strong approach which we can only approve.  For example, the creation of hybrid spaces, where living spaces are intertwined with productive spaces in order to promote the industry by gaining space at the same time. 
Origin : Made in Brussels
It is not only an architectural question, but all our relationship to economy that should be re-thought through this urbanism issue. For J. Declerk, the reflexion hence goes even more beyond " Our work is also an educational one, we would like to raise citizens' awareness on tomorrow's world, to prepare the post-Made in China era to progressively come back to a circular economy. By giving a better visibility to existing industries of the city, consumers might be able to realize the necessity of those and be proud of them. In the end, we are entering a logic of re-implantation which favours a local economy to achieve a reliable and sustainable model".
Brussels has already began this work, particularly by suggesting a  Canal Plan, which aims at studying and thinking about a strategy to develop the zone around the canal. We are not starting from scratch, when we see for example the slaughterhouses of Anderlecht or the Velofabrik workshop in Brussels. But the hardest part remains to be done, and it lies with us, citizens, to convert that potential. Let us not be ashamed of our industries. Let us not be ashamed of those who contribue to it and let us acknowledge that a working blue is worth as much as a white collar. 
Translated from A Good City Has Industry : Vive le Bruxelles de demain