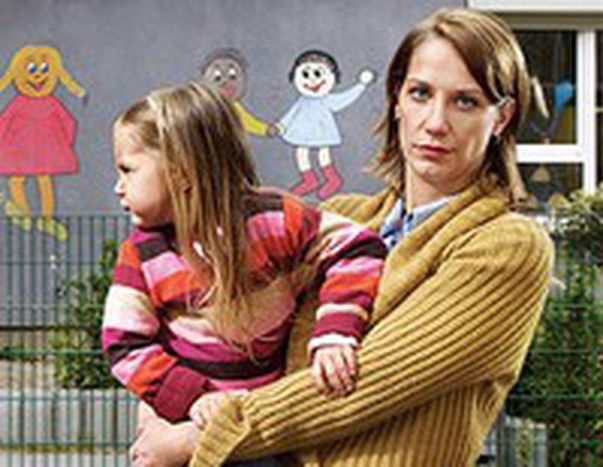 A capital that can't grow up
Published on
Last May, the German daily newspaper Tagesspeigel warned that in Berlin one child in three lives off 'Hartz IV' (government aid). This is a new high for Germany and is more than twice the national average. Is it an avatar of reunification?
Cigarettes in mouths, with rebellious, dyed hair or piercings; students crowd around the entrance to the old school during break time. In the corridor, a pretty young girl about ten years old plays Karate Kid with her group of friends while the babies take a nap upstairs. In the courtyard equipped with a magnificent playground, messy kids choose between the swing and hopscotch, while the bigger ones among them head for the miniature trucks. Whether they are scowling or angelic the association, founded in 1995 by Pastor Bernd Siggelkow, welcomes them all warmly as he takes them well under his wing.
'Let the little children come to me,' is the Arc's invitation, standing among the Plattenbauen; greying tower blocks which are remnants from the communist period. Every day, more than 300 young people of varying ages come to take refuge in the Arc, which is as welcoming as it is helpful, while Marzahn-Hellensdorf continues to be flooded with problems despite repeated investments in reunification. Beneath its impeccable metro station, its renovated buildings and its pleasant squares, this large suburb in eastern Berlin hides increasing poverty.
Election promises
'Around 45% of mothers in this area are single,' puts forward Pastor Kai-Uwe Lindoff, who has been project director for the last ten years. 'Not to mention the endemic unemployment. Over time, a whole generation of workers has found itself rejected by the job market, with jobs that are no longer needed and skills which are below modern standards.'
At the table with the other adults in the basement refectory, Omas describes himself as 'off course' and 'lost.' 'I've been unemployed for four years,' he explains. 'I've been coming here every day for the last six months to feel less alone.' Katherine also admits to coming to the Arc two or three days a week to meet other people. She is 20 years old, with two children aged one and four. She doesn't have access to childcare because she 'doesn't work.'
It is a vicious circle. It's not certain that the measures to create 750, 000 childcare places by 2013, as announced by Ursula von der Leyen, Minister for Family Affairs, will help. 'They are nothing but electoral promises,' predicts Kai-Uwe Lindloff, 'which will mainly help those who are already well off. There just isn't enough funding!'
Andrea, a 46 year old mother-of-three, has hope for the future, encouraged by a sales course she is starting this summer. 'She has been coming to the Arc with her ten-year-old twins for six years,' confides the teacher who would have really liked to be an interpreter. Smiling, they run into the Pastor's arms with incredible familiarity. He is a former Air Force instructor but has no trouble applying himself to the role of substitute father, without worrying about maintaining his authority. It must be said that his imposing stature, emphasised by his broad shoulders and blue sleeveless shirt, works in his favour.
'We are a second family to some children,' explains the Pastor calmly, who has brought women and children to the centre. 'We help them grow up. Nobody is there to pay attention to them, to identify their skills, to be interested in what they like, to value them. Both at home and at school they only receive negative feedback about themselves.'
A generation sacrificed at the altar of reunification?
According to a survey carried out by Tagessiegel, 'more than 1 in 3 children were reliant on state welfare in 2006.' That is 10, 000 more than the previous year. '90, 000 of the 325, 000 recipients of unemployment benefit are households with children.' 'Berlin is the capital of child poverty,' says Sabine Walter from the Kinderschutzbund lobby, who does not hesitate to comment on the official figures in Tagesspiegel. 'The city must pay attention to the fact that about half its young people grow up without hope.'
This is a huge problem for the German capital, which shines with success but still feels the effect of the communist regime. Now that the economy is working through its problems, Berlin's unemployment rate has risen to 17.5% compared to the national average of 8%, and the city's debt is almost 60 billion euros. It is difficult to control the poverty, which depends on employment levels as much as on educational opportunities, from access to teaching to childcare for children under three years old.
60% to 70% of the east
Despite its success, Germany is negligent. As is typical of conservative states, Germany's system for the redistribution of resources does not favour putting people to work. Mothers are particularly discriminated against in that very little help is provided towards combining family life with a career.
Since Germany is one of seven countries in the EU without a minimum wage (if not organised by the company itself), it also has a high number of poor workers. The consequence of this is that even if its poverty levels place it on the better end of the European Union scale, this level has still risen from 11.7% in 1993 to 13.5% in 2003, and continues to climb.
Individuals in the field and NGOs continue to criticise this situation. 'We are counting more and more children on the streets,' warns the person in charge of the Strassenkinder or 'Street children' association. They run away for economic reasons, but also because they are abused, beaten, mistreated or they are simply missing love and attention.
Although this problem is still much smaller than in other European capitals, 60 - 70% of Berlin's street children come from the east, according to Eckard Bauman. As far as teacher Manfred Endom is concerned, there has been a degradation in the school system and he is worried about growing child poverty.
'Children are the weakest link in society and they can't make themselves heard!' At least they have spokespeople like the Eurochild lobby, which published a very informative report in January 2006, entitled Eradicate child poverty in Europe. They compare the situation in each member state, and also show what needs to be done for future generations.
Translated from Une capitale où il ne fait pas bon grandir