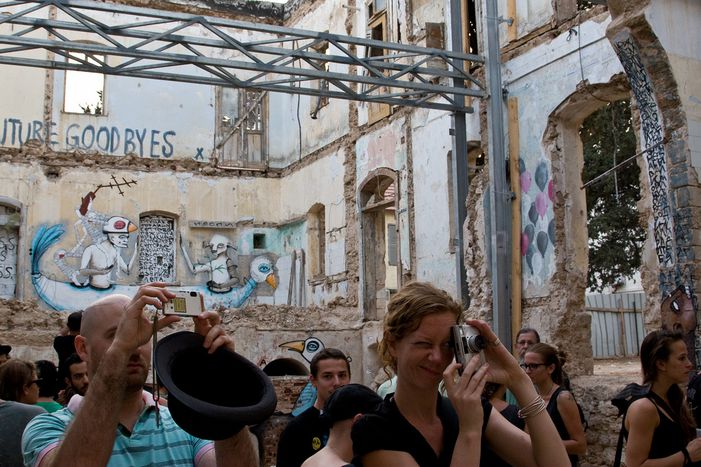 2009 Tel Aviv Biennale for Contemporary Art: An Urban Review
Published on
From a certain distance in time, Tel-Aviv Biennale for Contemporary Art, inaugurated last September, seems to be another sign for the growing globalization of Tel-Aviv, and by extension, Israel. Globalization, after all, is the process of getting on the map of whatever it is that this process is associated with: trade, culture, sport, or celebrity.
Routinely, rankings are produced by indexes of globality of cities or nations, as done by scholarly magazines or research institutes. On these, Tel-Aviv does show up, usually in-between, not earning the top spots where New York and Paris usually star, but managing to rank higher than cities with less exposure to world media, markets and finance. However, the global map of contemporary art is harder to construct or infer from cumulative indexes that audit companies or auction houses might compute. In this respect, there must be at least two maps that are at play in defining the urban strategies of which art biennials are an outcome.
One belongs to the international art world that with different degrees of reality is at work in determining the chances that artists and events hailing from all over the world gain their place in the spotlight of media coverage, sales volumes, museum consecration and public attention. Another is brought to life by the actors themselves, individual or collective, that seek an entry into the international art world. Borges' parable of the map becoming the world underscores the fact that fiction makes up a good deal of any map however close to reality it wants to come. Furthermore, this local map of the global world is twofold, since art biennials map not only the global art world in their representation practices, but also the urban space of the cities where they take place. In this regard, Tel-Aviv art biennial is right on with the exacting mapping of the kinds of spaces in Tel-Aviv that catapult it into the global spotlight as places where interesting things happen. Whether it is a general post-industrial transition that Israel completes by clearing the formerly neglected quarters of southern Tel-Aviv to cultural redevelopment, or a global trend of turning the charmingly decaying flea market area further South into a hip neighborhood of gourmet coffee, trendy cafes and antiquities shops, or the impressive plans for a leisure district on the site of the Old Jaffa port with a newly constructed hangar structure sitting side-by-side with historically preserved port structures that show video art instead of signs of industrial activity, but the urban map of Tel-Aviv art biennial is resolutely that of an urban revitalization.
It is not just the story of urban success is inherently attractive or serves well as a backdrop for art events and/or exhibitions. The track I took from the Old Jaffa art gallery, where Douglas Gordon videos were monumentally represented in spaces of striking post-industrial authenticity, across a rather lengthy walk to inspect three or four spaces for group and individual exhibitions in a compound redolent of a kibbutz or a factory atmosphere towards the main exhibition site that at the foot of a luxury residential tower commemorated the Templar settlement in Israel has been a charmed procession through an urban space showing the signs of bustling change. One could stay longer in the Old Jaffa compound to explore its sinuous walkways, layered park or architectural landmarks.
One could notice the construction of residential quarters in the Oriental style that connected the beach areas to the official historical preservation area where new construction and historical reconstruction were blurring the distinction between each other. In the flea market area one feels drawn to the marquees of vendors, post-modern architectural combinations at cross-roads and colorful stucco walls mixed with steel and glass of fashion outlets not unlike those on Manhattan's Fifth Avenue. What is missing is Starbuck's ubiquitous presence elsewhere. But a two blocks away from the main exhibition venue one finds Aroma, a local coffee franchise that sells remarkable cappuccinos.
A step further, one can sip one's coffee around a neat kiosk that combines local charm with European design, where one can occasionally ask for directions in English. The larger map of the event extends further along into what looks like a business district of Tel-Aviv, where public sculpture and fountains in front of major local banks surround a small museum where one of Israel's first bank offices was opened. Apart from a post-colonial British flavour, a two-story art exhibition from the venerable Israel Museum of Jerusalem leaves ample place for contemplation and rest as one sits down to follow the urban ethnography of contemporary video art or to ask oneself whether the reflective play with visual convention of representation of acts, bodies and colors actually increases or decreases the pleasure it induces. As one seeks one's way back to the main exhibition, one crosses a street one side of which is fenced-off in anticipation of the light rail construction in the city.
Perhaps there is another map to add to my musings on globalization: that of the urban flaneur who maps the urban space as she or he hurries across the urban panorama to the art biennial, slips outside of the exhibition halls to taste exotic food around the corner, walks the length of Tel-Aviv's Rothschild boulevard to see an open air show, stares at downtown skyscrapers and video projections on historical buildings, and enjoys the glow of the nightlife lighting up on the dusking streets.
Pablo Markin is a post-doctoral fellow at the Centre for German Studies of the European Forum of the Hebrew University of Jerusalem, Israel.